Pisa meets Beijing and Shangai through ArTour



Within a varied programme of activities, a group of Chinese students of arts had the opportunity to do laboratories and "artist jam sessions" in Pisa and its territory, and to showcase their works in a dedicated exhibition, opening on the 29th July 2023 in Pisa.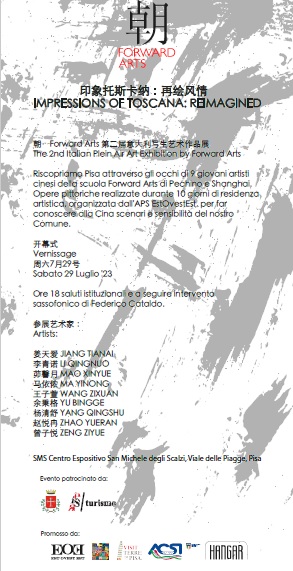 The young Chinese artist Wang Yitong, a graduate of the Academy of Fine Arts in Florence, has accompanied the students in their interpretation of the landscapes and architecture of the coastline, aswell as following many other activities that included mutual confrontation, meetings with other artists, art workshops, and more.

The outcome of this exchange on the Tuscan territory was possible thanks to the active cooperation and dedication of the Italian Cultural Institute in Beijing and the Italian Embassy in China, which contributed to the making of the peculiarities of the Pisan territory accessible and usable to the Chinese community. The association Est Ovest Est based in Pisa promoted the initiative as a way to establish and reinforce artistic and cultural bridges with China.

Read the full article (Italian language) in this blog.