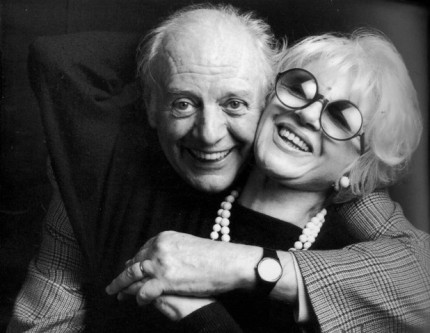 Nobel Laureate Dario Fo and Franca Rame were special guests during the presentation of the European project ECLAP, which took place in Rome on 20th October 2011, thanks to Centro Teatro Ateneo of Sapienza, University of Rome, and with collaboration of University of Florence (ECLAP coordinator), Compagnia Teatrale Fo-Rame, Fondazione Rinascimento Digitale and Italian Ministry of Cultural Heritage and Activities.
Performing Arts Digital Collections: ECLAP. Opportunities, Advantages, Experiences is the second in the series of international events planned by ECLAP.
During the event, Dario Fo & Franca Rame presented their archive, which features unique videos, images and texts representing more than 50 years of activity of the Dario Fo and Franca Rame theatre company. The remarkable items of the archive are being made available to EUROPEANA, for the first time thanks to ECLAP.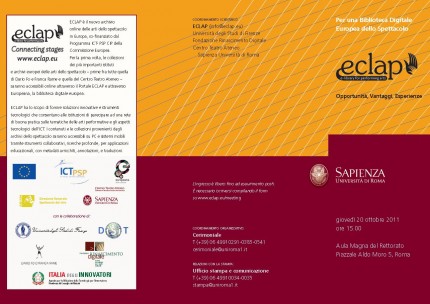 ECLAP, the European Collected Library of Artistic Performance, is the new online archive for all performing arts in Europe, co-funded through the ICT Policy Support Programme of the European Commission. For the first time, the collections of the most important European performing arts institutions and archives are available online through the ECLAP Portal, as well as through Europeana, the European digital library. ECLAP also provides innovative and unique solutions and tools to help performing arts institutions manage and make their collections accessible.
INFO:
ECLAP portal http://www.eclap.eu
If you have any further inquiries or require additional information about this event, please contact: info@eclap.eu
DISSEMINATION MATERIAL:
Download brochure (italian language)
Download press release (italian language)
Download Poster
Download Flyer
Download Technical Flyer
Outreach toolkits (italian version): email/tweet/facebook/blog – webpage
Outreach toolkits (english version): email/tweet/facebook/blog webpage