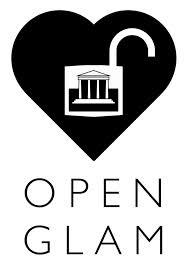 OpenGLAM (Galleries, Libraries, Archives and Museums) is an initiative run by the Open Knowledge Foundation that promotes free and open access to digital cultural heritage held by Galleries, Libraries, Archives and Museums.
OpenGLAM is supported by a global network of people and organisations who are working to open up digitised content and data held by GLAM institutions: a diverse group of organisations and projects in order to realise the goal of creating a cultural commons for everyone to access, use and enjoy.
OpenGLAM helps cultural institutions to open up their content and data through hands-on workshops, documentation and guidance and it supports a network of open culture evangelists through its Working Group.
The Open Definition says that a piece of content or data is open if "anyone is free to use, reuse, and redistribute it — subject only, at most, to the requirement to attribute and/or share-alike."
Open cultural content and data have a number of important advantages to society. Some of the greatest minds have observed the ability of prior knowledge to stimulate innovation and creativity. Isaac Newton famously wrote, "If I have seen further it is by standing on the shoulders of giants" and the German poet Johann Wolfgang von Goethe echoed this when he said, "I have often reaped what others have sowed."

Much of the work of OpenGLAM, and the Open Knowledge Foundation more generally, takes off from an understanding of the importance of knowledge sharing for research, innovation and creativity. For instance:
More openly licensed cultural content enables teachers across the world to re-use this work in the classroom
More open cultural data enables researchers to draw links between between people, things and events through the use of innovative techniques such as text mining and visualisation
More open cultural content enables citizens from across the world to enjoy this material, understand their cultural heritage and re-use this material to produce new works of art
OpenGLAM is co-funded by the European Commision as part of the DM2E project.
Learn more: http://openglam.org/