From company IN2, Mrs. Jana Wedekind describes a new solution for managing digital data, expressely created for cultural institutions.
This article presents objectives and current outcomes of the IM3I+ demonstration project for 'Pushing multimedia research into practice'. The product ON:meedi:a targets the Creative Industries and the Cultural Heritage Sector.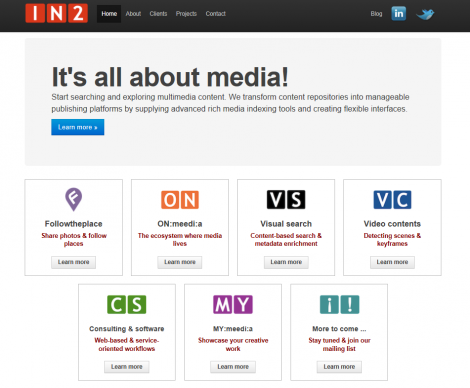 "83% of institutions have a digital collection, or is currently involved in digitisation activities. In the case of national libraries 100% have a digital collection. Of special libraries, only 75% has a digital collection (…)" [1]
The above statement taken from a recent study by the Enumerate project [2] shows that the amount of digital assets and collections is increasing and most cultural institutions have to maintain digital assets as part of their collection. This creates a growing need for suitable solutions to manage digital data, as well as finding ways for re-purposing assets in an online environment. Our solution ON:meedi:a is here to support you building customised, curated, cross-platform, content compilations. It provides a web-based ecosystem that serves all your needs in media asset management and publishing.
Aim for new business models with the media content that you already have.
ON:meedi:a uses a service-oriented architecture for querying and managing multimedia content, thus becoming a complete web-based media asset management system. This paves the way for a multimedia information management platform that is more flexible, adaptable and customisable than current repository software. ON:meedi:a allows new opportunities for content owners to exploit their digital assets.
• Customised: Publish from one source to many platforms with your own templates.
• Curated: Annotate and enhance content using powerful semi-automatic software tools.
• Cross–platform: Access your assets from different operating systems through a web browser.
• Content: All of your multimedia, text, image, audio and video files.
• Compilations: Build Virtual exhibitions, Newsletters, Guided tours, Music Collections and more…
Demonstration scenarios of ON:meedi:a have been applied in media production, as part of an educational content workflow and for publishing archived content from repositories. Its versatility allows for composing such services into pipelines and constructing a variety of interfaces to support content workflows.
What happened so far?
Semi-structured interviews were conducted in February/March 2012 and showed that the modular aspect of ON:meedi:a is outstanding in comparison to other current commercial solutions and the interviewees reacted very positively on the idea of purchasing only what they need and receive a customised solution. We were able to find five members for our advisory board, all of whom bring in great expertise in the area of media management and publishing.
One of them is Elena Brodie-Kusa, a Moving Image Consultant from the United States who stated that 'The ON:meedi:a team has a unique appreciation in understanding end-users, as well as flexibility in integrating multimedia technology. Their openness to develop tools that truly enhance and enable better searching and browsing is very exciting.'
The other members of our board are Jeremy Davenport, the Co-founder of the Creative Industries Knowledge Transfer Network, Franz Patay, the Secretary General at the IMZ International Music and Media Centre in Austria, Dr. Stefan Rohde-Enslin from Germany, who is part of the Digitisation & Museum technology in the Project NESTOR Institute for Museum Research (smb-pk), and Johan Oomen, the Manager of the R&D Department at Netherlands Institute for Sound and Vision.
We have participated in several events such as the IBC and the PICNIC festival, which allowed us to disseminate and validate the showcases we prepared. Please have a look at Prezi [http://prezi.com/user/in2/] or Slideshare [http://www.slideshare.net/IN_2/] to get an impression of what we presented in the past.
'(…) the availability of mass digital content is only a recent phenomenon, and [that] many additional forms and use cases will emerge in the years to come.' [3]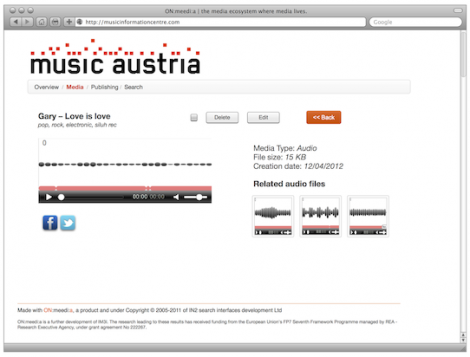 On our website we present the five paper prototypes we developed during our project, which are based on the feedback of our interviews:
1) Aggrelate – Aggregate and translate your favourite media [http://onmeedia.com/showcases.html#aggrelate]
2) Management of museum content for adding metadata, constructing online exhibitions and optimising workflows [http://onmeedia.com/showcases.html#museums]
3) Music Information Centre – Easy retrieval and publishing for music enthusiasts [http://onmeedia.com/showcases.html#mica]
4) MY:meedi:a – Your media ecosystem [http://onmeedia.com/showcases.html#mymeedia]
5) Tourism Content Management – Reach your audience with one click [http://onmeedia.com/showcases.html#tourism]
Until the end of the of the project in June 2013, these paper prototypes will be further developed into live showcases with selected partners who decided to be part of this pilot phase.
Further, you can already test our trial applications yourself to see the features of ON:meedi:a in action:
1) A microsite about Edinburgh – Hyperlocal – share your photos in a responsive web design [http://onmeedia.com/apps/edinburgh.html]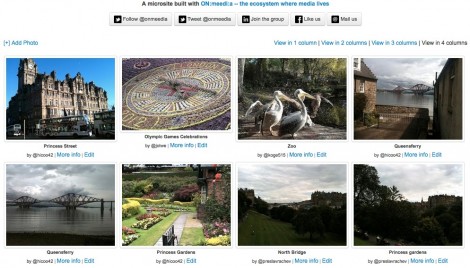 2) A microsite about Opera – Build it at the desktop, share the enthusiasm on mobiles [http://onmeedia.com/apps/opera.html]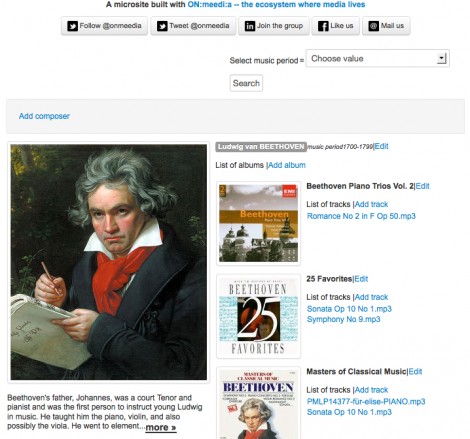 Please check website [http://onmeedia.com/] and blog [http://onmeedia.com/blog.html] for the latest updates. If you think you have a scenario that needs to be addressed, please contact us. We are happy to discuss your requirements.
Acknowledgment
The ON:meedi:a ecosystem is a further development of the IM3I project and its demonstration and deployment is co-financed by the IM3I+ project. The research leading to these results has received funding from the European Union's FP7 Seventh Framework Programme managed by REA – Research Executive Agency, under grant agreement No 222267 (IM3I) and No 286838 (IM3I+).
IM3I+ is run by IN2 search interfaces development Ltd [http://in-two.com/], with Spring Techno GmbH and Co. KG [http://www.springtechno.de/] and Music Information Center Austria [http://www.musicaustria.at/] as partners.
Website: http://www.onmeedia.com
Twitter: @onmeedia
Facebook: https://www.facebook.com/onmeedia
LinkedIn: Media Handling for Creatives Group
Address: IN2 search interfaces development ltd.
22 Forth Street, UK-Edinburgh EH1 3LH
Telephone: +44-131-5503741
Contact: info@onmeedia.com
Notes
[1] Stroeker, N., Vogels, R. 2012. Survey Report on Digitisation in European Cultural Heritage Institutions 2012. [Online: Enumerate – Statistics]. Available from http://www.enumerate.eu/en/statistics [Last accessed: 11.10.2012].
[2] ENUMERATE is an EC-funded project, led by Collections Trust in the UK. The primary objective of ENUMERATE is to create a reliable baseline of statistical data about digitization, digital preservation and online access to cultural heritage in Europe. Available from http://www.enumerate.eu/ [Last accessed: 11.10.2012].
[3] Art of Digital London. 2012. The Knowledge – Digital Strategy in Culture. London: openMute. Available from http://theknowledge.aodl.org.uk/index.php/The_Knowledge_Book [Last accessed: 11.10.2012].