ONLY ITALIA is protagonist at AQUAE VENEZIA – EXPO 2015 with a big area dedicated to The Silk and Spice Route: an over 600 square meter space, an elegant and evocative setup that is the visual synthesis of a constant interaction between people, cultures and innovative technologies aimed at promoting Italianity in the world.
The ONLY ITALIA stand represents the meeting point between Orient and Occident: Water, Energy, Spirituality, Vibrations, Music, Nature, Territories. Visitors will be involved in theatre, fashion, art, enterprise, research, innovation experiences and much more. Matching events, B2B encounters, business meetings. «If Marco Polo tracked the Silk and Spice Route, ONLY ITALIA is contemporary expression of it». So Irene Pivetti explains the pavilion's concept.
The ONLY ITALIA pavilion will host companies, national and multinational enterprises, cultural institutions, seminars and conferences, enhanced by influential contributions from several foreign Countries: Europe and the Eurasian continent, the Transoceanic Americas and China are among the great protagonists of the XXI century. A multimedia and innovative space, dedicated to cultural and business exchanges, so as it was in the tradition of the Silk Route, which in the centuries has traced a path still telling us of travels, encounters, trades.
ONLY ITALIA is the first business and distribution platform in Italy supporting small and medium enterprises for export towards foreign markets. Born in 2011 from an idea of Irene Pivetti, ONLY ITALIA is an enterprise network bringing together around 2000 SMEs from various market sectors and spread over the all national territory. ONLY ITALIA is also a brand registered in Italy and abroad, regulated by an SGS protocol.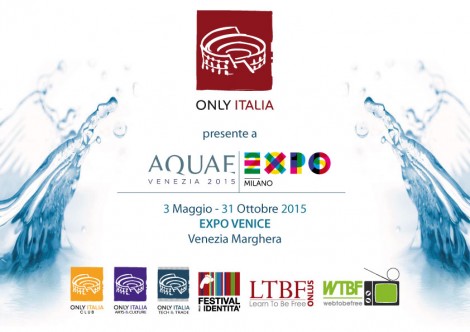 ONLY ITALIA TECH&TRADE promotes projects for cooperation with foreign countries – in particular with China – in the Technology, Innovation and Research sector. ONLY ITALIA ARTS&CULTURE is the cultural soul of it, supporting projects for cultural exchange, training and promotion of the Italian heritage with the aim of strengthening the cooperation between Italy and foreign Countries.
ONLY ITALIA TV is the information platform producing communication projects and TV formats on economy, enterprise, made in Italy, European policies, culture and innovation themes. ONLY ITALIA TV gathers a network of media partners, operating in Italy and abroad, which will be a daily window on AQUAE VENEZIA – EXPO 2015, the Universal Exhibit that for 6 months will put Italy at the centre of the world.
ONLY ITALIA proposes to its partners and the public of AQUAE VENEZIA 2015 a 3D Virtual Fair, a tool developed with innovative and cutting-edge technologies, a huge virtual space wherein each exhibitor has the possibility to buy a stand, standard or customisable, visible to a great number of people. The Fair is open to visitors and professionals from every part of the world, who moving indoor with an avatar's assistance can communicate between each other in a chat: a great opportunity for promoting and improve one's own firm.


DiCultHer – Digital Cultural Heritage School is partner of ONLY ITALIA at AQUAE VENEZIA 2015. Download the event catalogue of DiCultHer for Expo Venice 2015.
Download this press release in Italian language.
For furter info visit only-italia.it