Online course: 3D Reconstruction of Cultural Heritage at Risk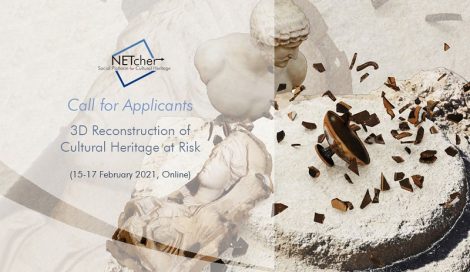 On February 15th-17th, 2021, Ca' Foscari University of Venice (Italy) and the Center for Cultural Heritage Technology – Italian Institute of Technology (Italy) will organise the 3D Reconstruction of Cultural Heritage at Risk Training, in the framework of H2020 NETCHER Project.

NETCHER 3D Reconstruction of Cultural Heritage at Risk Training (NTRCHRT) is as a 3-day intensive online education programme focusing on 3D documentation and reconstruction of Cultural Heritage objects at risk to be stolen, trafficked, or damaged.

The goal of this training is to provide the basics to work with photogrammetry, 3D reconstruction and 3D modelling as a means of protecting Cultural Heritageat risk.

NTRCHRT addresses specifically Cultural Heritage professionals working in/for Museums, Archaeological Parks, Art/Archaeology local management offices/Superintendencies and Cultural Heritage national agencies. The programme offers a multidisciplinary learning experience with hands-on activities and opportunities to learn from professionals in the field. It will include pre-recorded tutorials, live lectures, and personal projects to get practice, interact with trainers, and gain familiarity with key software packages (such as ReCap PRO), photography applications to Cultural Heritage objects and metadata structuring, and LiDAR portable technology.

If you are a motivated Cultural Heritage specialist, do not miss the chance to apply to the Training Programme and directly benefit from it in your daily professional activities.

 Details 



Online Training Programme


15-17 February 2021


Full description and application information here


Full programme here


NTRCHRT will be open to maximum 25 participants. Please note, this course is very time-intensive and we ask a full commitment of the participants during the sessions.


Fluency in English is required.


No fees: the training costs are covered by NETCHER H2020 Project Training Fund.


Priority is given to applicants working in Museums, Institutions, Superintendences, and similar institutions dealing with artefacts documentation, or working in geographic areas severely exposed to Cultural Heritage looting and theft.