From our correspondents James and Maria Huntley
Margaret Dolinsky is Associate Professor of Digital Art at the HR Hope School of Fine Arts, Senior Research Scientist with the Pervasive Technology Institute and the Fellow with the Institute for Digital Arts and Humanities at Indiana University in Bloomington.
Dolinsky has been working with virtual environments since 1995, creating interactive art experiences that have been exhibited internationally including China, Japan and Austria. All this information and more can be found on her website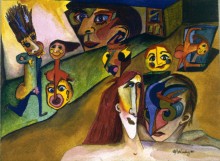 To fully understand her work it must be experienced. The work is generated as the viewer interacts with it giving each viewer a unique and personal experience of it. However, visiting her websites gives a thorough background in her work and truly inspires a desire for a more direct experience of her work. There are videos of people interacting with the virtual art environment that has developed from traditional painting into a fully realized experience through virtual media. Following is information given by the artist in answering a few questions.
Could you expand more on your art experience in a virtual environment and the CAVE development?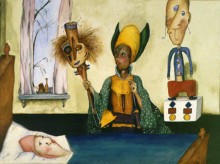 I work in virtual reality, and extend the visuals to art installations, opera, theater, and augmented reality. Virtual reality is my walking visionary thinking. I can walk through the world of my characters first found in my sketchbooks then in paintings and finally in virtual reality. It is important to see the paintings to understand the style in virtual reality.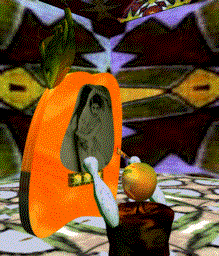 It is meant to be a walking dream, stream of consciousness experience. I am shifting perception to a virtual space that uses people as its focus. There are no drop down menus or icons to click on so the objects in the environment lead the visitor through the space. For example, in Blue Window Pane an icon sits on a wall. Inside is a small shelf with a pulsating gold key. As you approach the key, the icon swells open and becomes a hallway. As you move through the hallway, silhouettes slide open to allow you to move further and inside you reach a small inner sanctum where two guards block you at the door. You have to push past them and their gesticulations and wild noises, too.
here is the icon from Blue Window Pane
How is digital art currently impacting the contemporary art world? In the next 5-10 years?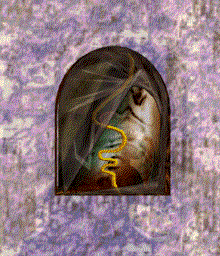 Digital art is slowly making its way into galleries and museums as they are becoming more technically adept in handling and maintaining the installations. It brings in a younger crowd and fascinates an older one. All ages can really enjoy the computer experiences as well as the greater gallery and museum together. My biggest fear has come true though, some are referring to video as virtual reality. All computer graphics lines cross in virtuality without distinction of experience. In true virtual reality, there are stereo visuals, stereo, spatial audio, real time 3D graphics and interaction. The artwork does not require a playback device; it requires the artwork to be generated during the time of the visitor's interaction. The work is realized as the visitor is moving, manipulating, navigating or somehow altering the reality of the art experience.
Can you comment on your work installed in Tokyo and Linz?
I have Blue Window Pane installed at ICC and Dream Grrrls, Blue Window Pane and Strait Dope installed at Ars. Both are wonderful institutions and I feel very honored to have worked with both of them.
It appears that you are from a painting background. What drew you initially to using digital and virtual media as a form of expression?
I love painting and still paint to create my 3D work. I wanted to stand inside the paintings and interact with the characters themselves. I wanted to be in their world and hear their voice. I think that if you can imagine the world, you can live in it in many different ways. I have to say again, virtual reality is my walking visionary thinking.
More information: