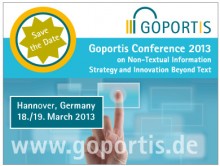 Welcome to the Goportis Conference 2013 on Non-Textual Information Strategy and Innovation Beyond Text
In the research and education nowadays, the supply, use and significance of non-textual information such as 3D models, AV media and research data is continually increasing. Due to change in user needs and behavior and heterogeneity of these non-textual materials, there is a need for discussion about the central challenges that the digital society is facing on these topics. Only a tiny proportion of these non-textual materials for example can be searched and used at this present time.

Goportis*, the Leibniz Library Network for Research Information, which consists of the TIB, ZB MED and ZBW, is going to focus on the theme of "Non-Textual Information – Strategy and Innovation Beyond Text" in its 2013 conference. The event, which is attracting international participation, is concerned with the question of how the internet is changing existing research and publication processes and how particularly non-textual information, such as 3D-models, audiovisual objects and research data, can be integrated into the scientific work processes. In view of its expansion and increased importance in research and teaching, the issue here is to fundamentally improve the conditions for access to these types of information and to enable new forms of usage for existing inventories – at the present time, only a tiny proportion of these materials can be searched and used.
Under the auspices of the TIB, which is currently setting-up a competence centre for non-textual materials, this international English-language event will be taking place on the 18th and 19th March in Hannover. Speakers from the USA, Canada, Great Britain, France and the Netherlands, as well as Germany, will be presenting their solutions in the areas of "Strategy and Policies", "Best Practices", "Innovation and Research" and "Digital Preservation".
The opening keynote speech will be made by Salvatore Mele from CERN.
*Goportis as your host is the Network of the German National Libraries of Science and Technology (TIB in Hannover), Medicine (ZB MED in Cologne/Bonn) and Economics (ZBW in Kiel/Hamburg). We offer research-based services to support scientific working processes.
Full Programme here
More information here
Registration here