C-DAC, the Indian Centre of Excellence for Digital Preservation, and APA, European Alliance for Permanent Access, announce the APA International Conference on Digital Preservation and Development of Trusted Digital Repositories which is being held at Silver Oak Hall, Habitat World, India Habitat Centre, New Delhi, India, on 5-6 February 2014.
Call-for-paper deadline was extended until 25 October 2013 and the attendees' registration is now open, with an early bird registration fee discount.
For online registration click here.
The submitted papers are based on the following thematic areas:
Digital preservation in various domains such as e-government, scientific and research data, geospatial information, electronic health records, audio and video, media archives, government and cultural archives, corporate data archives, etc.
Domain specific adaptation of Open Archival Information System (OAIS) Reference Model
Digital disasters and recovery
Digital forensic for authenticity of information
Technological infrastructure development for trusted digital repositories
Trusted digital repositories in cloud
Digital preservation for legal compliances
The challenges and techniques for maintaining trust in electronic records over long period
Integrating e-record management with e-government
Approaches for long term sustainability of digital repositories
Data mining and repurposing of digital information stored in digital repositories
Long term storage solutions with techniques for optimization and efficacy
Preparing for audit and certification of digital repositories
Design of domain specific digital preservation policy framework
Curriculum design for digital preservation.
They are case studies & work in progress (6 to 8 pages), full research papers (max 10 pages) and position papers (4 to 6 pages).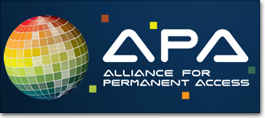 There will be speakers representing both the Indian and UK governments and large institutions like CERN from Switzerland and STFC from UK, as well as large commercial organizations such as ORACLE. Keynote speakers will be: Dr. Luciana Duranti, Chair of Archival Studies at the School of Library, Archival and Information Studies of the University of British Columbia (UBC) and Professor of archival theory; Jamie Shiers, IT expert playing a key role in the field of knowledge preservation
Important dates
Last date of paper submission – 25 October 2103
Acceptance notification – 5 November 2013
Conference – 5-6 February 2014
General Conference Chairs
Dr. Dinesh Katre, Associate Director & HOD, C-DAC, Pune, India
Dr. David Giaretta, Director, APA
As a joint conference, this is a great opportunity for the digital preservation community in Europe and the US to engage with the Indian digital preservation groups and exchanging knowledge and ideas that will benefit all parties.  APA, heavily involved in broadening its membership internationally, has been actively engaging with the Indian community (C-DAC is an APA member) and developing its relationship with government and commercial organisations.
Dr. David Giaretta and Dr. Dinesh Katre  look forward to welcoming you in New Dehli in February 2014!
Visit the conference web-site