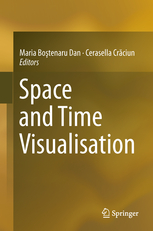 By Maria Boştenaru Dan and Cerasella Crăciun, the book brings together experiences and expertise from NeDiMAH (Network for Digital Methods in Arts and Humanities), a Research Networking Programme funded by the European Science Foundation (ESF). It examines mapping methods, procedures, tools, criticism, awareness, challenges and solutions around the concepts of "Space and Time" and "Information Visualisation".
The introduction illustrates the overall framework of the Romanian contributions to the survey which the book emerges from. Such contributions, partly provided by the University of Bucharest, are mainly from two fields, namely landscape planning and architectural design, including digital methods for the representation of natural disasters.
International experts, from Europe and beyond, have been involved as authors and reviewers. In this regard, the main connection was with expertise in Karlsruhe, a German city hosting a museum unique in the world, the Centre of Art and Media, which in 2015 celebrates its 300 year anniversary.
Conclusions link the contributions to related research, including references to conferences in the field and opportunities for entrepreneurship, thus opening new perspectives of further work.
The book is composed of 6 sections. The firsts are dedicated to digital landscape architecture, digital architecture history and digital art; the lasts to virtual recording and virtual reality (the 3D space). Here the book suggests innovative possibilities for 3D representation, that is reproducing a site or landscape not just as a common 3D model, but rather by recreating its historic evolution (space-time connection).
The final part features digital methods in disaster management.
View the book pre-announcement on Springer.com