Museum With No Frontiers (MWNF) is an organisation whose ground-breaking and visionary programme aims to establish a vast trans-national museum that presents works of art, architecture and archaeology in the context in which they were created. Inspired by the principle of organising exhibitions without moving the works of art, MWNF is creating through modern technology an exciting new dimension to museums. The visitor is invited to experience a museum not only as a place to admire artifacts on display but also as a gateway to related works of art in other museums, relevant archaeological sites and monuments as well as to thematic visits.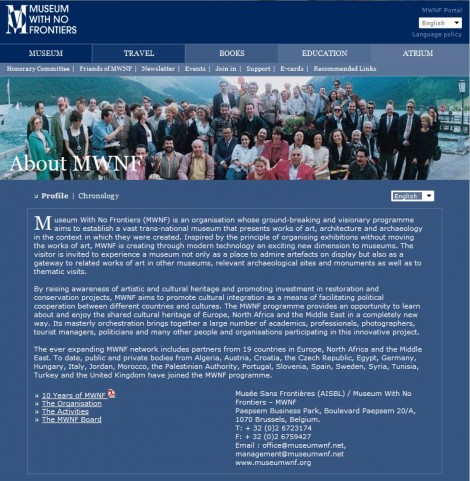 By raising awareness of artistic and cultural heritage and promoting investment in restoration and conservation projects, MWNF aims to promote cultural integration as a means of facilitating political cooperation between different countries and cultures. The MWNF programme provides an opportunity to learn about and enjoy the shared cultural heritage of Europe, North Africa and the Middle East in a completely new way. Its masterly orchestration brings together a large number of academics, professionals, photographers, tourist managers, politicians and many other people and organisations participating in this innovative project.
The ever expanding MWNF network includes partners from 19 countries in Europe, North Africa and the Middle East. To date, public and private bodies from Algeria, Austria, Croatia, the Czech Republic, Egypt, Germany, Hungary, Italy, Jordan, Morocco, the Palestinian Authority, Portugal, Slovenia, Spain, Sweden, Syria, Tunisia, Turkey and the United Kingdom have joined the MWNF programme.
MWNF encourages the visitor to use the museum as the entrance to thematic exhibitions that present items on display (physically or virtually) in terms of related monuments, archaeological sites or venues of historical events. It is MWNF policy that history, art and culture are presented from the local perspective, thus facilitating a dialogue between people and cultures based on shared knowledge.
The MWNF Exhibition Trails aim to develop tourism for individuals and small groups and focus on lesser-known themes, monuments and regions.
In the MWNF Virtual Museum modern technology enables one museum to become the gateway to a genuine museum with no frontiers. An IT-based programme allows artefacts in one museum to interrelate with others in museums elsewhere as well as monuments and archaeological sites in different countries, and can show the objects as they would have looked in their original settings. The Virtual Museum also makes it possible to discover the international spread of various artistic movements, promotes a comparative approach to history that takes into consideration different perspectives and points of view, and invites the visitor to understand art and archaeology as material witnesses of historical events.
Computer terminals are installed in each participating museum  to provide access to the Virtual Museum and transform the virtual dimension into a natural extension of the exhibition being visited. The MWNF Virtual Museum is an unrivalled source of information for visitors who can either follow one of the suggested itineraries through the Virtual Museum or choose their own route according to their priorities and interests.
The MWNF Virtual Museum includes a Permanent Collection which presents objects, monuments and sites from all participating museums and countries, Temporary Exhibitions, a Database providing students all over the word with access to an extraordinary source of information, access to the MWNF Exhibition Trails as well as a Virtual Book & Travel shop and a Virtual Office for all those who are working for this unprecedented and remarkable museum with no frontiers.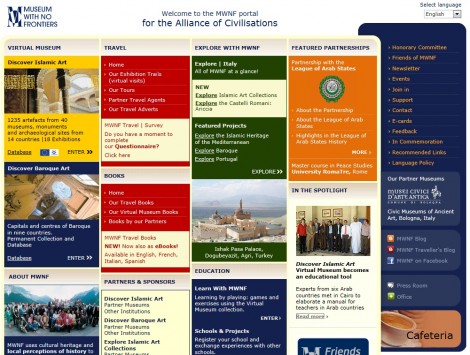 MWNF uses cultural heritage and local perceptions of history to promote the Alliance of Civilisations.
The MWNF portal: http://www.museumwnf.org/