The Second Edition of Musei Emotivi workshop, in italian language, is organized at Museo Novecento in Florence. The event is addressing museums professionals and curators and aims to explore the theme of visitors engagement and the role of emotions in the museal experience.
What is the role of emotions in designing 21st century museums?
Museums of the future should be provoking emotions in the visitors, to improve the educational experience and access to the collections, also through the use of new media and immersive technologies that allow to explore the museum's content in a creative, emotional and personalized way.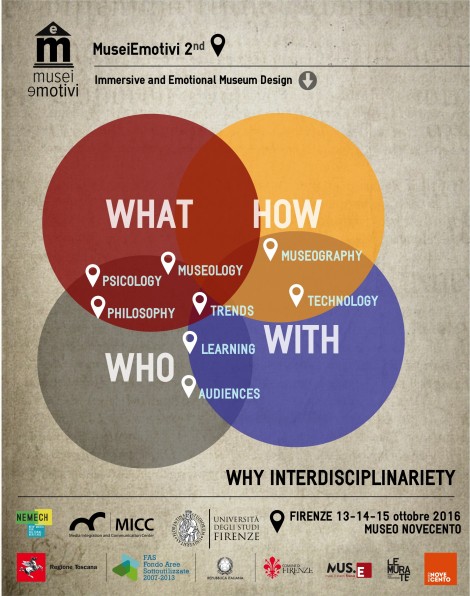 The workshop will include presentations by experts, guided visits and laboratories.
Featuring:
Alberto Del Bimbo,  Direttore MICC – Media Integration and Communication Center, Università di Firenze | NEMECH – New Media for Cultural Heritage | MuseiEmotivi;
Giuliano Gaia,  Co-fondatore  InvisibleStudio e Musei-it (Milano | Londra);
Alessandra Gariboldi, Responsabile ricerca e consulenza Fondazione Fitzcarraldo, Torino;
Valentina Gensini, Museologa, direzione scientifica Museo del Novecento | direzione artistica Le Murate Progetti Arte Contemporanea , Firenze:
Lorenzo Greppi, Architetto-Museografo, Fiesole (FI);
Silvia Guarnieri,  Psicologa ViceDirettrice PER Lab –Laboratorio di Psicologia Emozioni & Ricerca, Firenze;
Roberta Lanfredini, Professore Ordinario di Filosofia teoretica, Dipartimento di Lettere e Filosofia, Università di Firenze;
Paolo Mazzanti,  Ricercatore MICC/Nemech | MuseiEmotivi
Margherita Sani, Funzionario IBC Beni Culturali Regione Emilia Romagna. Bologna  | Executive Board NEMO -Network of European Museum Organisations;
Valentina Zucchi,  Responsabile scientifico Mediazione – Associazione MUS.E;
Experts and researchers NEMECH – New Media for Cultural Heritage, e MICC – Media Integration and Communication Center – Università degli Studi, Firenze;
Desigenrs and curators Museo Novecento.
More information can be found here: http://nemech.unifi.it/portfolio-posts/musei-emotivi-seconda-edizione/