Moving Image - a video art fair



Moving Image London 2013 is a biannual contemporary art fair comprised entirely of moving image-based art.  It was conceived to offer a unique viewing experience with the excitement and vitality of a fair, while allowing moving image-based artworks to be understood and appreciated on their own terms. Moving Image London 2013 will feature a selection of international commercial galleries and non-profit institutions presenting single-channel videos, single-channel projections, video sculptures, and other larger video installations.

Moving Image London 2013 is located at The Bargehouse in London's South Bank.

Official website: http://www.moving-image.info/london/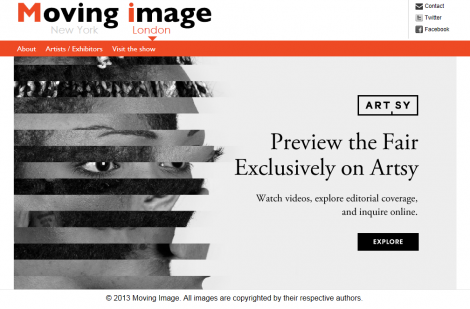 Moreover, Moving Image has teamed up with ArtSy to offer an exclusive online preview of the fair. In the dedicated page it is possible to browse artists, works, and exhibitors, explore editorial coverage and top picks from art world insiders, and collect works by Moving Image artists.

The ArtSy last editorial features an interesting interview: Artsy spoke with fair co-founders Ed Winkleman and Murat Orozobekov on "the need for a moving image-based fair, the allure of video art to collectors, and why this year promises to be the most exciting Moving Image London yet."

They say: "There's so much happening in the world of video art, it's hard to know where to start really. From the world-class exhibitions pushing installation standards, like the Steve McQueen exhibition at the Schaulager in Basel, to the advent of online video-making tools, like Vine, to the blurring of the fine art world and the commercial or Hollywood world, the medium is growing quickly in all directions, and artists are clearly taking advantage of the easier-to-access technology these days. It's understandable, with more and more artists being so invested in moving-image-based work that contemporary art collectors have begun to pay more attention to it as well."

Read the whole editorial on ArtSy's website.