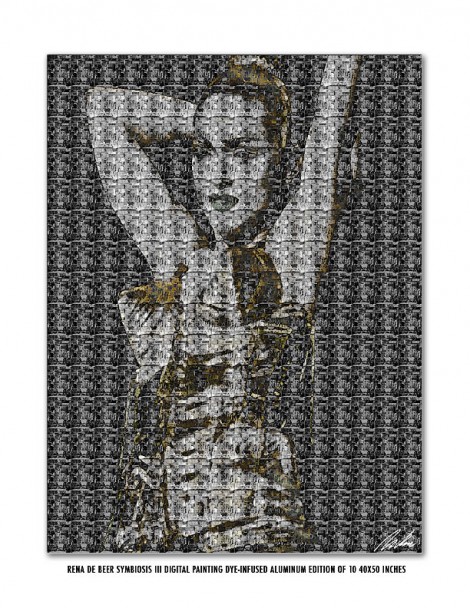 Rena De Beer's work should be understood as the visual representation of an individual. She is equally using images and objects to originate a portrait as the perception of a person. The fusion of visually variation components to a unique portrait. The text, the objects and the image create an inseparable symbiosis.
Rena De Beer's artistic dedication focuses on the correlation of visual and written information in the digital world concentrating on the entertainment industry. Rena De Beer lives and works in Los Angeles.
She integrates the creative mind with modern technology. Her works are digital paintings and are created in a similar fashion as traditional paintings but using software on a computer platform and digitally outputting the resulting images as painted on canvas, paper, plexiglas or aluminium.
Additional she is incorporating all kind of forms and images from the realm of the everyday life. From a distance they look like abstractions, but up close they images related to each other, as if in conversation.
The viewer is offered a moment of reflection about how we organize and order the extraordinary volume of objects and information in our lives, and how we may come to see randomness in order, and aesthetic beauty in the everyday.
Official website: http://www.renadebeer.com/default.php