MEDIA ART HISTORIES Conference 2015 in Montreal
"RE-CREATE: Theories, Methods and Practices of Research and Creation in the Histories of Media Arts and Sciences" will address the central question of what theories, methodologies and techniques can be used to understand past, present and indeed, future paradigms of creative material practice involving technologies within research contexts from a historical and critical point of view. This is a timely question for the MAH conferences as the issue of how material based practices within technical culture create new knowledge has been explicit and central to the historical roots of media art, design, science and technology.

After Riga 2013 this fall, Liverpool 2011, Melbourne 2009, Berlin 2007 and Banff 2005, the Media Art Histories board is pleased to grant the 10th Anniversary conference to Montreal. RE-CREATE will be hosted by the Hexagram Centre for Research-Creation in Media Art and Technology at Concordia University and the UQAM (Université du Québec à Montréal) in collaboration with McGill University (Department of Art History and Communication Studies; Media@McGill; * CIRMMT-Center for Interdisciplinary Research in Music and Media Technology).
The Conference Chairs are Chris SALTER with Co-Chair Gisele TRUDEL.
After an international call for proposals the Media Art Histories Steering Committee/Conference  Series Board received six high quality proposals. The decision was made by Sean CUBITT (Goldsmith, London), Oliver GRAU (Danube Univ.), Linda HENDERSON (Univ. Texas, Austin), Erkki HUHTAMO (UCLA), Machiko KUSAHARA (Waseda Univ., Tokyo), Douglas KAHN (UNSW, Sydney), Martin KEMP (Oxford), Tim LENOIR (Duke Univ.), Gunalan NADARAJAN (Univ. of Michigan, Ann Arbor) and Paul THOMAS (UNSW, Sydney).
Official Website: www.mediaarthistories.org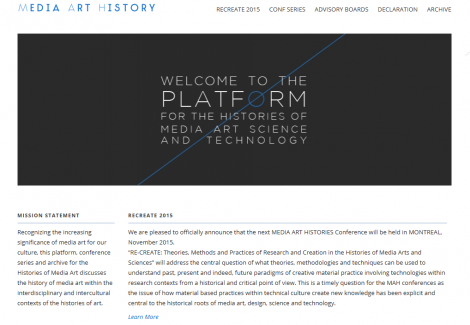 This conference series is for the following fields: art history, anthropology, architecture, computer science, collecting, cd-rom & dvd creation, cultural studies, curating, cyberfeminism, documentation, ethnography, film studies, history of science, history of technology, image science, interaction, interculturalism, media archaeology, media art, media studies, museum direction, museum exhibit creation, nano arts, performance, photography, pop culture, presence research, preservation, psychology, robotics, scenography, science writing, semiotics, sociology, sound studies, supercomputing, teaching, theatre, videography, visual culture.
-------------------------------------------------------------------------------------------
Original MISSION STATEMENT Media Art Histories Conference Series (2004):
Recognizing the increasing significance of media art for our culture, this conference series on the Histories of Media Art will discuss for the first time the history of media art within the interdisciplinary and intercultural contexts of the histories of art. Numerous individuals and institutions collaborate to produce the international art history conference series covering art and new media, art and technology, art-science interaction, and the history of media as pertinent to contemporary art.
written by: Irina ARISTARKHOVA, Annick BUREAUD, Dieter DANIELS, Sara DIAMOND, Diana DOMINGUES, Jean GAGNON, Oliver GRAU, Machiko KUSAHARA, Roger MALINA, Gunalan NADARAJAN, Manrai HSU, Ryszard KLUSZCYNSKI, Edward SHANKEN (Villa Vigoni, Lake Como, Summer 2004)