On the 19th of October 2013, with the closing initiative "Lucca open for LuBeC", when Lucca offered itself to the participants with events and extra openings, LuBec successfully concluded its 9th edition. Lucca's Mayor Tambellini defined Lucca as "ideal city, which was able to keep intact its traditional tissue, but also a city which has to make new functional choices and to identify the elements to be valued in the future. Not only Tourism, but also Culture, Agri-Culture, – understood as respect for the landscape – Industry and Internationalization". In Mayor's words, Lucca becomes metaphor of the Italy we would like.
LuBeC, as usual held in the Real Collegio of Lucca, is organized by Promo PA Foundation with the support of Regione Toscana and of the local Authorities and Foundations. Devoted to improving the value of Cultural Heritage and to the territorial-tourist marketing, over the years the event has proved itself to be a moment of cultural exchange and a place to promote the join of public institutions, experts, business world, education and research world. Thanks to debates, presentations, exhibitions, training seminars, B2B and special projects, LuBeC generates national and international concrete development actions; this year, it focused on the theme of employment and on the search for new opportunities and competencies to be integrated with Green Economy, Tourism, ICT and Made in Italy.
LuBeC 2013's Scientific Committee was chaired by Francesca Velani and composed of: Patrizia Asproni, Paola Chini Polidori, Antonia d'Aniello, Maria Adriana Giusti, Franco Gugliermetti, Elisabetta Kelescian, Marilena Pasquali, Elena Pianea, Antonia Pasqua Recchia, Maddalena Ragni, Cristina Rapisarda Sassoon, Gian Bruno Ravenni, Giuseppe Stolfi, Gaetano Scognamiglio, Paola Verdinelli De Cesare.
After the opening plenary session, entitled "Culture Navigator for Development", during which Mr David Woodley Packard was awarded for his extraordinary effort on the Ercolano's site reconstruction, carried on through the Herculaneum Conservation Project, the following exhibition session offered many occasions of international exchange; the attendees' presentations aimed at the transfer of know-how in the field of innovative technology, particularly of technologies applied to Cultural Heritage.
Let's review the main moments of the exhibition session:
Workshop on accessibility

"The city for everyone: accessible living, knowing and moving", engaging the International League of the Accessible Cities (Lucca, Turin, Avila, Viborg, Mulhouse, Sozopol). Among the projects aiming to make cities an heritage belonging to everybody, LuBeC presented the "Accessibility Project" supported by Fondazione Banca del Monte di Lucca;

 "Lucca Heritage" project

, an example of cooperation and integration among institutions. The 500th anniversary of Lucca's Wall was remembered and a movie was screened about 2013's restoration of the San Francesco Complex, supported by Fondazione Cassa di Risparmio di Lucca;

Presentation of the results of an unpublished research, "Web Feeling of the Cities of Arts"

, carried out by Promo PA for Formez PA by "listening" to the social networks to understand what the users think of some Cities of Arts (Lucca, Naples, Amalfi, Costiera Amalfitana, Lecce, Palermo, Rome);

"Walking to the South": presentation of the opportunities for Via Francigena's development

, arranged with the support of Regione Toscana;
A workshop developed with the Giacomo Puccini Foundation, talking about the new Museums Bookshop as an opportunity of employment development and a business occasion for the traditional, but also technological and digital craftsmanship;

Presentation of the book "For a possible Italy – will Culture save our country?"

, with Ilaria Borletti Dell'Acqua Buitoni;

Presentation of the project "Magna Charta of the Voluntarism for Cultural Heritage"

, developed by Cesvot and Promo PA Foundation with the purpose to foster the recognition, planning and organization of the Cultural Heritage voluntarism;
Presentation of the new Law Value Culture and of examples of private citizens' engagement in Cultural Heritage value, with the participation of Istituto di Credito Sportivo (ICS), Agenzia del Demanio and ADSI;
Conference developed by Lucca's Chamber of Commerce, entitled "Fallen into the net?" and devoted to the theme of strengthening business opportunities of SMEs;

Three meeting times called "Focus Employment"

, devoted to ICT and its new ways to exploit and transmit Cultural Heritage and Tourism contents.
Focus Employment 1 was coordinated by Franco Gugliermetti of La Sapienza of Rome and with the participation of Mojtaba Navvab from University of Michigan, ISIA, Florence Academy of Art and Fondazione Campus discussed about "Training for the value of Cultural Heritage", illustrating best practice training experiences, in the field of Cultural Heritage and IT, aimed to foster the insertion in the world of work.

Focus Employment 2 was devoted to the Information Technology and showed successful examples of technologies applied to cultural heritage; Promoter Srl took part in this session with a presentation of Antonella Fresa about the creative re-use of digital cultural content and best practice for private-public-partnerships. In this same session: Fabio Zinesi of GCODE Srl, presenting "At Museum with the smartphone", augmented reality app realized on behalf of the museum of San Martino and Solferino; Alessio Carciofi, expert of territorial marketing and social media, presenting "Think, Create, Inform, Dream"; Salvatore Messina of INVITALIA, presenting "E-procurement for cultural heritage: the possible innovation. The case of Pompei"; Piero Muscarà of ARTE.it, first Italian independent technological platform for art and cultural heritage, presenting "Mapping art in Italy: the business future is digital"; Giovanni Carta, communication manager of Comune di Firenze, talking about the use of digital technologies in public institutions, for tourist and cultural purposes; Luigi Doveri, managing director of Gruppo Forti, presenting "Interacting, communicating, creating: the co-working opportunities"; Alessio Lucarotti of Mediaus, presenting "AD 2013: PR is Digital and increases the tourists' coming".
Focus Employment 3 was devoted to the topic of Energy efficiency in historical buildings. Alexandra Troi of EURAC participated in this session and Sergio Gatteschi presented SERPENTE, project for the improvement of energy efficiency in the historical buildings.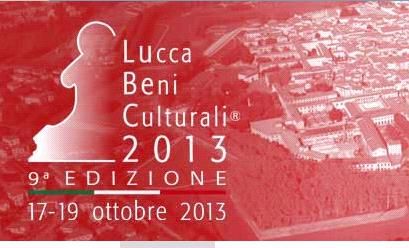 LuBeC 2013 wants to thank all the exhibitors, the speakers, the media partners and everyone bringing his proofs and sharing his experiences. Thanks to everybody, because by participating you contributed to the success of this 9th edition!
For more information:
General Press Release in Italian – PDF
Final Press Release in Italian – PDF