The 7th Workshop on Language Technology for Cultural Heritage, Social Sciences, and Humanities was held in conjunction with the 51st Annual Meeting of the Association for Computational Linguistics (ACL 2013) which took place in August 4-9, 2013, in Sofia, Bulgaria.
Full reporting here: http://sighum.science.ru.nl/latech2013/index.html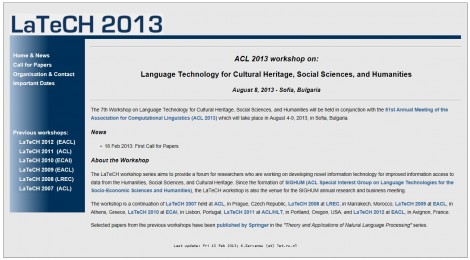 About the Workshop
The LaTeCH workshop series aims to provide a forum for researchers who are working on developing novel information technology for improved information access to data from the Humanities, Social Sciences, and Cultural Heritage. The LaTeCH workshop is also the venue for the SIGHUM (ACL Special Interest Group on Language Technologies for the Socio-Economic Sciences and Humanities) annual research and business meeting.
In the Humanities, Social Sciences, and Cultural Heritage communities there is increasing interest in and demand for NLP methods for semantic annotation, intelligent linking, discovery, querying, cleaning, and visualization of both primary and secondary data, which holds even for collections that are primarily non-textual, as text is also the pervasive medium used for metadata.
Many domains of application in these domains entail new challenges for NLP research, for example noisy, non-standard textual or multimodal input, historical language, the scarcity of digital semantic resources, or resource-intensive workflows that call for semi-automatic processing tools and domain adaptation, or, as a last resort, intense manual effort. It is of mutual benefit that NLP experts, data specialists, and digital humanities representatives working in and across these domains get involved in the Computational Linguistics community and present their fundamental or applied research results.
Authors were invited to submit long or short papers on original, unpublished work in the topic areas of the workshop, including (but not limited to) the following:
Adapting NLP tools to Cultural Heritage, Social Sciences, and Humanities domains
Automatic creation of semantic resources
Automatic error detection and cleaning
Complex annotation tools and interfaces
Dealing with linguistic variation and non-standard or historical use of language
Discourse and Narrative analysis
Linking and retrieving information from different sources, media, and domains
Research infrastructure and standardization efforts
Sentiment analysis
Text mining and text analytics
User modeling, recommendation, personalisation
Background and Organization:
The workshop is a follow-up to LaTeCH 2007 held at ACL in Prague, Czech Republic, LaTeCH 2008 at LREC in Marrakech, Morocco, LaTeCH 2009 at EACL in Athens, Greece, LaTeCH 2010 at ECAI in Lisbon, Portugal, LaTeCH 2011 at ACL/HLT in Portland, Oregon, USA, and LaTeCH 2012 at EACL in Avignon, France.
Organising Committee:
Piroska Lendvai (Co-Chair) Research Institute for Linguistics, Hungary
Kalliopi Zervanou (Co-Chair) Radboud University Nijmegen, Netherlands
Caroline Sporleder University Trier and Saarland University, Germany
Antal van den Bosch Radboud University Nijmegen, Netherlands