The 11th edition of the "Culture and Computer Science" (<Ger.> Kultur und Informatik [KUI]) conference series brings into focus best practice examples, challenges, and future trends in the fields of visualisation and interaction. The conference targets cultural politicians, employees of cultural and creative industries, communication scientists, cultural and artistic actors as well as computer scientists and engineers, who conduct research and development on cultural topics.
The presentations will discuss the following key topics:
General conditions of cultural politics
Interdependence between culture and computer science
Influence of art and culture on future developments
The media-compatible treatment and enhancement of information
Intuitive usage of media systems
These items shall primarily be analysed, demonstrated and discussed through best-practice examples for cultural and creative industries.
Official website and programme: http://inka.htw-berlin.de/kui/13/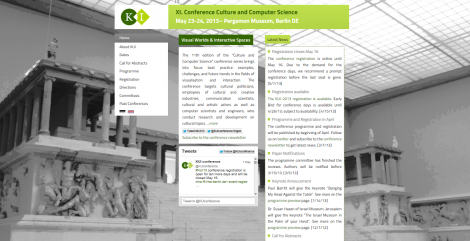 Keynote speakers are:
Dr. Susan Hazan, Israel Museum, Jerusalem
Paul Barritt
Prof. Dr. Stefan Weinzierl, Technische Universität (Berlin Institute of Technology) Berlin
Prof. Dr. Christian Kassung, Humboldt University of Berlin
Workshops (in German language) will have place on 22 May.