Japan Media Art Festival: Dortmund 2011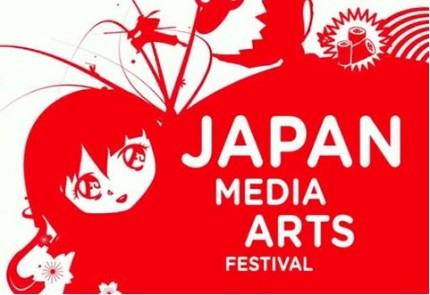 Organised by the Japanese Agency for Cultural Affairs and produced by Hartware Medien Kunst Verein (HMKV), the Japan Media Arts Festival Dortmund 2011 presents prominent representatives of Japanese art, entertainment, manga, animation and music.
After Beijing, Shanghai, Singapore, Vienna and Istanbul, Dortmund (Germany) was the location of the sixth Japan Media Arts Festival (JMAF) overseas exhibition in 2011. Interactive installations, games, photography, manga, animated films and music were experienced in a varied exhibition for which the award winners of the last festivals inTokyo were selected.
Many elements of the comprehensive festival program were presented for the first time in Germany. Well known artists such as the Oscar winning director Hayao Miyazaki (Spirited Away, Howl'sMovingCastle) met the art of newly discovered talents like Shinya Uchida, an iPad-magician.
The custom-built large-scale installation days and nights by Norimichi Hirakawa and Houxo Que was blending colour-intensive paintings with video projections. Naohiro Ukawa presented his project The Final Media Dommune in a specially arranged clubroom. The installation was connected to the actual Dommune club in Shibuya, Tokyo, via live Internet streaming. Miniature models of animation characters, animals and monsters from the last 50 years paid tribute to the legendary figurine-maker Kaiyodo. Festival visitors could interact with Jun Fujiki's highly innovative computer game, echochrome.
The pocket-sized 3-D cinema i3DG by Jitsuro Mase and Tsutomo Nagae invited visitors to give it a try. The manga café offered a selection of current Japanese comics and anime series while many more works of Japanese art and entertainment were waiting to be discovered.




The live event on the opening night of the JMAF at VIEW, the club in the Dortmunder U, seemed to be a cutting-edge event of Japanese pop culture. On 9 September at 20:00 sasakure.UK featured Hatsune Miku, the most popular Japanese virtual singer and famous Pop-star. Hatsune Miku also performed together with Momoiro Clover Z, the most energetic idol-group in Japan. In addition, one of the founders of Japanese VJing, Naohiro Ukawa, created an impressive VJ-live-performance to round up an exciting night.
Furthermore, a special film program features current and classic anime films on the big screen. Masaaki Yuasa's films had a special highlight. Three of his most important films were showing: Kaiba, Mind Game and the new series The Tatami Galaxy. On 11 September at 18:00 the director himself explained his work during a film talk.
Moreover, the exhibition Proto Anime Cut on the 3rd floor of the Dortmunder U was dedicated to the theme of anime and makes up, together with the Japan Media Arts Festival Dortmund 2011, this year's Japan focus of Hartware MedienKunstVerein. The Japan Media Arts Festival is an authorized event in the context of 150 years friendship between Japan and Germany.

HARTWARE MEDIENKUNSTVEREIN (HMKV) - DORTMUND

Date: 10 SEPTEMBER - 02 OCTOBER 2011

Curated by Stefan Riekeles

ART: HIRAKAWA Norimichi/ QUE Houxo, KUROKAWA Ryoichi, KUWAKUBO Ryota, MIYAMOTO Naotaka, ONISHI Yasuaki, SHINTSUBO Kenshu/ IKEGAMI Takashi, UKAWA Naohiro

ENTERTAINMENT: FUJIKI Jun, SUZUTA Ken/ FUJIKI Jun/ SUZUKI Tatsuya, HAYASHI Tomohiko/ SENBO Kensuke/ KOYAMA Tomohiko, MASE Jitsuro/ NAGAE Tom (DIRECTIONS.Inc), MIYAWAKI Osamu, MIZUGUCHI Tetsuya, NAKAMURA Haruki, UCHIDA Shinya

ANIMATION: ANNO Hideaki, HARA Keiichi, HOSODA Mamoru, ISO Mitsuo, KOIKE Takeshi, MIYAZAKI Hayao, OSHII Mamoru, SHINKAI Makoto, TANIGAWA Nagaru/ ISHIHARA Tatsuya, YUASA Masaaki

MANGA: AZUMA Kiyohiko, INOUE Takehiko, IWAAKI Hitoshi, YAMADA Yoshihiro, YAMAMOTO Naoki, YOSHINAGA Fumi, MATSUOKA Waka, Christina Plaka, Dirk Schwieger

SHORT MOVIES: ISHIDA Hiroyasu, KAWAMURA Masashi, Hal KIRKLAND, MASHIMA Riichiro, MIZUGUCHI Tetsuya, NAKAMURA Magico, NAKAMURA Masayoshi, OKAWARA Ryo, SAKAMOTO Yusuke, SEKI Kazuaki, TAKAHASHI Nobuo, TAKEUCHI Taijin, TAMAI Kenji, OKAMOTO Noriaki, YKBX



For further information about HMKV:



http://www.hmkv.de