The Visual Computing Laboratory of ISTI-CNR, in collaboration with the Opificio delle Pietre Dure and the Peggy Guggenheim Collection, has carried out the three-dimensional diagnostic analysis of the painting "Alchemy" by Jackson Pollock, thanks to cutting edge 3D scanning technologies and 3D computer graphics, which made possible to measure and visualise the art of Jackson Pollock with incredible detail.
Aim of the action was to create a three-dimensional high-resolution map of the painting's geometry, usable to measure, study and analyse the material structure of the work. The results have been employed to create an interactive kiosk and a physical reproduction of the painting for the exposition "ALCHEMY BY JACKSON POLLOCK. Discovering the Artist at Work" (February 14 – April 6 2015, Peggy Guggenheim collection, Venice).
The 3D digitisation
The 3D digital measurement of the artwork geometry conducted by ISTI-CNR, during the time the painting was at the Opificio delle Pietre Dure, took around 4 hours: the whole painting has been digitised at a resolution of 0.2 mm; some areas of interest, have been then digitised in greater detail at a resolution of 0.1 mm. The instrument used for the digitisation is GOM ATOS, an advanced structured light 3D scanner. The scanner projects a light pattern on the surface and triangulates the position in space of the illuminated area, with a sampling density between 25 and 100 points per square millimetre.
The raw three-dimensional measured data have then been processed using MeshLab, software developed by ISTI-CNR, in order to generate the 3D models and the details for the whole painting.
The 3D model
A unique final 3D model (composed of 80 million triangles) has been generated by aligning all the single acquisitions (each of them covered a 60×40 cm area). Colour information has been added to the 3D model. It has been "projected" on the pure geometry starting from a high resolution image produced by a multispectral scanner developed by INO-CNR. Hence, high-resolution geometry and colour information have been integrated in a single model.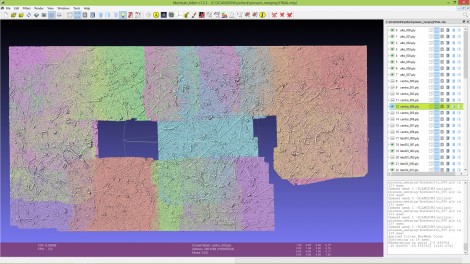 The Exposition
For the exposition "ALCHEMY BY JACKSON POLLOCK". Discovering the Artist at Work", the Visual Computing Laboratory staff has prepared two contributions: an interactive kiosk for the exploration of the geometry of the painting and a physical reproduction of the artwork.
The interactive kiosk, developed by ISTI-CNR with the 3DHop tool, enables the user to explore the high-resolution 3D model of the whole painting, simply using a touch-screen. The visitor can observe the geometry up close, moving the light to appreciate the three-dimensionality of the artwork, and select hot-spots framing specific areas of interest. The interactive online viewer linked here offers the same characteristics of the one in the museum.
The three-dimensional print of the artwork geometry, based on the high-resolution 3D model created by ISTI-CNR, has been manufactured the Netherlands-based company OCE', employing a cutting-edge 3D printing technology.
Project coordination:
Roberto Scopigno – Visual Computing Laboratory – ISTI CNR Pisa
Project team:
Paolo Pingi
Marco Callieri
Matteo Dellepiane
Marco Potenziani
Gaia Pavoni
Aurelia Lureau
Thanks:
Peggy Guggenheim Collection, Venice
Opificio delle Pietre Dure, Florence
INO-CNR, Florence
For further info visit http://vcg.isti.cnr.it/alchemy/
For more information about the exposition click here