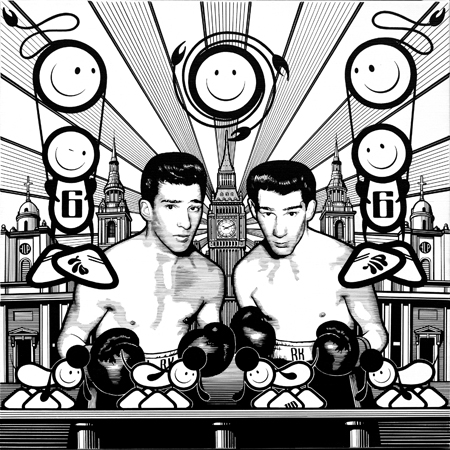 Amsterdam based art duo, The London Police, show cast their new artwork which mixes digital editing, photography, printing and canvas pieces.
The StolenSpace Gallery says:
"For inspiration, TLP have leaned on the memories of their athletic exploits growing up: The times when a pool cue was for the pursuit of sporting excellence not for finding someone who owed you money and whacking them around the face. The days when a cricket bat was for hitting sixes into Mrs. Norrington's back garden before you smacked a ball through your mum's greenhouse, blamed it on your brother, and had to wait for Dad to come home to give you both a couple of wallops with a rolled up Daily Mail…Aaaaah, sport. Memories.
Alongside canvas originals, TLP has produced an exclusive range of limited edition, designer pool cues and hand drawn cricket bats. The games theme continues with a unique painted vintage Monopoly board and photography from TLP's city-wide Monopoly Street Art installations in London. Attendees at the private view will also have a chance to try their hand at a lucky dip and win prizes by competing on a handmade, wooden, ball-bearing maze game. Four of these very limited edition games will also be for sale. After a serious injury involving a finger and a wood saw, production of these maze games (and the aforesaid mentioned finger) were 'cut short', so to speak. As they say, It's all fun and games until someone gets hurt."
The London Police website:
http://www.thelondonpolice.com
Venue: StolenSpace Gallery, London