Italy: design, politics and democracy in the 20th century.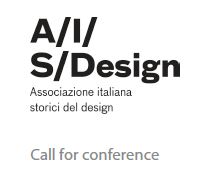 The focus of the conference organized by Associazione Italiana  Storici del Design is to
investigate the complexity of historical relations between design and politics during the 20th century
; the event will be held the 20th and 21st of June 2019 in Turin at Castello del Valentino.
Starting from the presuppose that the design territory is placed into a dialectic and dialogic dimension that involves designer, production and society, the purpose is to bring out the different subjective conditions of the referred Italian community in relation with the transformation of political and social conditions and to reconsider the design role, also in its ideological aspects, as a result of a political thought, indeed oriented to the design organization of the common good.
The call proposes two macro areas of intervention:


Critical Humanism: "democracy and design" or design vs democracy / disciplinary session: between history and critics


Operational Humanism: "political design" or design vs politics / problematic session: between history and contemporaneity


Important dates:


December 2018 call publication


January 31st 2019 abstracts deadline


February 28th 2019 abstracts acceptance


Further information:
Location: Castello del Valentino, Turin
Convenors: Luciana Gunetti (Politecnico di Milano), Dario Scodeller (Università Degli Studi di Ferrara)