IST-Africa 2015 Conference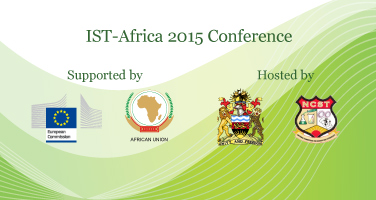 Hosted by the Government of Malawi through the National Commission for Science and Technology, Supported by the European Commission and African Union Commission, IST-Africa 2015 will take place in Lilongwe from 05 - 08 May 2015.









Part of the IST-Africa Initiative, which is supported by the European Commission under the ICT Theme of Framework Programme 7 (FP7), IST-Africa 2015 is the tenth in an Annual Conference Series which brings together senior representatives from leading commercial, government & research organisations across Africa and from Europe, to bridge the Digital Divide by sharing knowledge, experience, lessons learnt and good practice and discussing policy related issues.



The scientific programme for IST-Africa 2015 is based on an open Call for Papers.









IST-Africa 2015 is focused on applied ICT and the core thematic areas include:



Digital Libraries


eHealth, mHealth & Health Information Systems


eGovernment - Services to Citizens & Business


eInfrastructures, NRENs and IPv6


Future Internet: Cyber Security, Privacy and Trust, Connected Enterprise


ICT for Agriculture and Environmental Sustainability


ICT4D (including Humanitarian Technologies)


ICT Skills and ICT for eInclusion and eAccessibility


ICT Regulatory Frameworks


Living Labs (Adaptation for Developing Countries)


Mobile Applications (including mServices, mEducation, Social Networking)


Next Generation Computing: Big Data, Cloud Computing, Data Localisation, Internet of Things (IoT)


Open Source Software - Applications


Technology-enhanced Learning


Transformation of Research Results into Local Innovation


Societal Implications of Technology





Interested presenters are encouraged to prepare an 8 page paper (4,000 - 5,000) words following the IST-Africa paper guidelines and paper template for submission online by 19 December. For more information, please visit http://www.ist-africa.org/Conference2015/default.asp?page=submission



All submissions will be double blind peer reviewed by the International Programme Committee and authors will receive feedback in late January. Accepted authors will then be invited to submit a final paper taking account of feedback provided for inclusion in the conference proceedings by 28 February.