It is our great pleasure to announce that the International Symposium on Grids and Clouds (ISGC) 2014 will be held at Academia Sinica in Taipei, Taiwan from 22 to 28 March 2014, with co-located events and workshops. The conference is hosted by the Academia Sinica Grid Computing Centre (ASGC), Taipei, Taiwan. The Program Committee cordially invites your participation by taking part in the Call for Abstracts.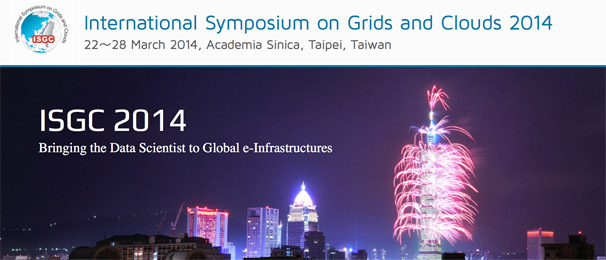 "Bringing the data scientist to global e-Infrastructures" is the theme for ISGC 2014. The last decade has seen the phenomenal growth in the production of data in all forms by all research communities to produce a deluge of data from which information and knowledge need to be extracted. Key to this success will be the data scientist – educated to use advanced algorithms, applications and infrastructures – collaborating internationally to tackle society's challenges.
ISGC 2014 will bring together researchers working in all aspects of data science from different disciplines around the world to collaborate and educate themselves in the latest achievements and techniques being used to tackle the data deluge. In addition to the regular workshops, technical presentations and plenary keynotes, ISGC this year will focus on how to grow the data science community by considering the educational foundation needed for tomorrow's data scientist.
Topics of discussion include Physics (including HEP) and Engineering Applications, Biomedicine & Life Sciences Applications, Earth & Environmental Sciences & Biodiversity Applications, Humanities & Social Sciences Application, Virtual Research Environment (including Middleware, tools, services, workflow, … etc.), Data Management, Big Data, Infrastructure & Operations Management, Infrastructure Clouds and Virtualisation, Interoperability, Business Models & Sustainability, Highly Distributed Computing Systems, and High Performance & Technical Computing (HPTC).
ISGC cordially invites and encourages anyone who is interested in grids and clouds to participate in this grand event!

Conference website: http://event.twgrid.org/isgc2014/index.html
Call for Papers: http://event.twgrid.org/isgc2014/cfp.html