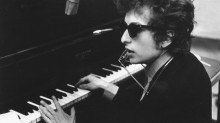 Bob Dylan's 'Like a Rolling Stone' was released nearly 50 years ago, but this is the first time an official music video for the song has ever been made. Using interactive technology that belongs to the 21st Century, the song has been transformed into a video that acts as a vintage TV set. Viewers can flick through channels while 'Like a Rolling Stone' plays in the background, choosing between news broadcasts, a game show, what appears to be a TV sitcom, and a black and white video of Bob Dylan's own performance of the song. On each channel the protagonists of each TV programme lip-sync to the song, giving the impression that we are being transmitted a message by different broadcasters, regardless of our social context or country.
We are all receiving an important message from Dylan, but it's a message that was created half a decade ago. The creator of the music video, Vania Heymann, has very cleverly used new media technology and interactive video utility. Heymman explains that, "the effect can only be surrealistic if the channels are realistic" (Rolling Stone Magazine online, 20 November 2013).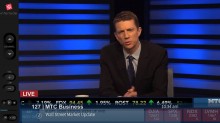 However, part of this dedication to realism makes certain "channels" available to viewers rather monotonous to watch, such as the actor who plays the role of the news broadcaster. The most engaging 'channel' is without a doubt the one featuring Dylan's own performance, and perhaps this is the contrasting effect created by our passive responses to some of the other channels; in daily life, we often skip through channels while searching for something interesting to watch. It is likely a comment is being made about Dylan's song here; viewers are forced to engage and listen to what he is saying. One also wonders just how 'interactive' the video really is; sometimes the channels change without you even clicking the button, and other times clicking the button does not shift you quickly enough from one channel to another.
Despite this, the video is an incredibly intelligent use of contemporary digital technology to recreate our fascination with a classic piece of music, adding new meaning and context to Dylan's poetic musings.
Article in Rolling Stone Magazine.
View the full video on video.bobdylan.com
(Photos from: mashable.com and dezeen.com)