Dubrovnik, Croatia, 22 September 2016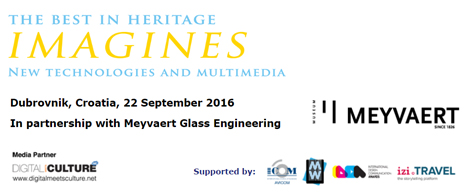 Due to the increasing number of award programmes focused on new technologies, from 2016 onward, this one day event is added to the Best in Heritage programme. It features exceptional prize-winners related to use of Web, Apps, Multimedia, VR, Games, Augmented reality, Audio tours, Digital content etc. in museums and heritage. The emphasis is on keeping the participants updated with latest trends and creative solutions. This is a needed expansion of the original concept of the Best in Heritage conference. The framework remains the same: the best annual survey of the most influential museum, heritage and conservation projects globally.
The agenda and details of the presented projects are available here.
Featuring:
Canadian Museum For Human Rights Mobile App
Fundation Gala-Salvator Dali: Dali's last masterpiece
VanGoYourself
DOMunder – Tinker Imagineers
Australian Centre for the Moving Image
Europeana Foundation, GLAMwiki Toolset
HERMeS: HERitage Management e-System
Gubec Teater by the Museum of Peasant Uprisings in Gornja Stubica
National Palace Museum "Adventure in the NPM : the Formosa odyssey"
Breaking the Frame – Framework Knitters Museum
HistoPad Chambord
Australian Centre for the Moving Image "China Up Close"
Fondation Louis Vuitton: Archi-Moi
La grotte Chauvet Pont d'Arc
Field Guides to Australian Fauna – a suite of eight apps
Musée de la Civilisation: Danser Joe
Programme: http://www.thebestinheritage.com/conference/programme/imagines
Registration: http://www.thebestinheritage.com/conference/registration
Pre-conference publication: https://issuu.com/tbih/docs/best_in_heritage_2016_projects_of_i
Contact: news@thebestinheritage.com