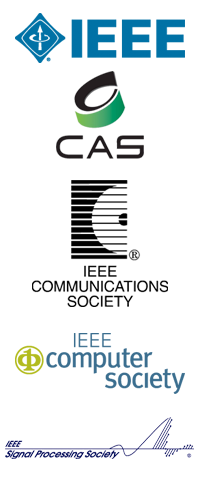 CALL FOR PAPER OPEN UNTIL DECEMBER 2012
With nearly 1200 submissions in 2011, the IEEE International Conference on Multimedia & Expo (ICME) has been the flagship multimedia conference sponsored by four IEEE societies since 2000. It serves as a forum to promote the exchange of the latest advances in multimedia technologies, systems, and applications from both the research and development perspectives of the circuits and systems, communications, computer, and signal processing communities. In 2013, an Exposition of multimedia products, animations and industries will be held in conjunction with the conference.
Authors are invited to submit a full paper (two-column format, 6 pages maximum) according to the guidelines available on the conference website at www.icme2013.org. Only electronic submissions will be accepted. Topics of interest include, but are not limited to:
Speech, audio, image, video, text processing
Signal processing for media integration
3D visualization, animation and virtual reality
3D imaging and 3DTV
Multi-modal multimedia computing systems and human‐machine interaction
Multimedia communications and networking
Multimedia security and content protection
Multimedia databases and digital libraries
Multimedia applications and services
Media content analysis
Multimedia standards and related issues
Multimedia quality assessment
ICME 2013 aims to have high quality oral and poster presentations. Several awards sponsored by industrial and scholarly organizations will be presented. Best papers will be presented in a singl-track session to all participants. Accepted papers must be presented at the conference in order to be included in the IEEE Xplore Library.
A number of Workshops will be organized by the sponsoring societies. To further foster new emerging topics, ICME 2013 also welcomes researchers, developers, and practitioners to organize regular Workshops.
Workshops Call for Workshop Proposals
Workshop proposals are solicited for ICME 2013. The workshops should be clearly focused and be facilitating active discussions and constructive interactions on current or emerging topics of interest. They should allow members of the community to share and discuss approaches, methods, innovative technologies for multimedia, and new concepts on research topics pertinent to the main conference. These topics would bring to the interest of the multimedia research community or bridge the community with experts from other areas.
Workshop proposals for ICME 2013 should include:
The title, goals, and duration of the workshop (half-day or full-day);
The specific topics that will be addressed by the workshop;
The relevance and significance of this workshop to the main conference;
The history of the workshop if it is not the first version;
A draft call for papers for the proposed workshop with:

The names, affiliations, email addresses, and short bios of the workshop organizers, who should be experts in the related topics and preferably from multiple institutions;
The paper selection process;
A list of potential Program Committee members and their affiliations.
Workshop proposals should not exceed four pages and should be submitted to the Workshop Chairs, Zhengguo Li (ezgl@i2r.a-star.edu.sg), Maria Luisa Sapino, (mlsapino@ di.unito.it), and Timothy K. Shih, (timothykshih@gmail.com).
Workshop proposals will be evaluated based on various criteria including the theme of the workshop, its relevance to the main conference, and the overall balance of the conference workshop program, as well as the quality and level of details of the proposal.
Important Dates
Regular Paper Abstract Submission: December 10, 2012
Regular Paper Submission: December 15, 2012
Notification of Regular Paper Acceptance: March 1, 2013
Workshop Proposal Due:December 1, 2012
Notification of Workshop Proposals:December 15, 2012
Workshop Paper Submission:February 20, 2013
Notification of Workshop Paper Acceptance:April 15, 2013
Camera-Ready Paper Due:April 30, 2013
Industrial & Application Short Paper Submission: March 31, 2013
Contact
Email: webmaster@icme2013.org
Website: www.icme2013.org
Download PDF version of this call for workshop proposals.