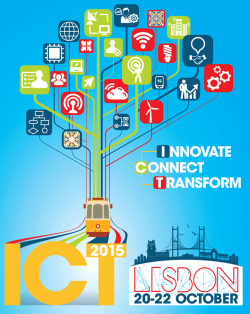 The biggest ICT event in the EU calendar is back! Join us during ICT 2015 to network, follow interesting debates in the conference, hear the latest news on the new European Commission's policies and initiatives with regard to R&I in ICT, find information about funding opportunities and much more!
The European Commission, together with the Fundaçao para a Ciência e a Tecnologia Portugal, brings you: ICT 2015 – Innovate, Connect, Transform, 20-22 October 2015 in Lisbon, Portugal.
The ICT 2015 event will comprise a number of parallel activities:
a policy conference presenting the new Commission's policies and initiatives on Research & Innovation in ICT (Horizon 2020 Programme);
an interactive exhibition showcasing the best results and impact of most recent EU ICT Research & Innovation;
many networking opportunities to enhance quality partnerships, helping participants find partners, connect Research and Innovation and trigger collaboration;
funding opportunities: ICT 2015 will also be the place to gather information on the 2016 Work Programme of Horizon 2020.
Registrations will open by May 2015.
Ready to showcase the results of your innovative project? Eager to connect with other ICT researchers? Prepared to share your digital transformation? Submit your proposal for displaying your project/company at the ICT 2015 Exhibition!
The ICT 2015 Exhibition will be an integral part of the three-day event alongside a policy conference and networking sessions. We invite interested parties to submit a proposal for an exhibition by 19 April 2015 18h00 CET (deadline extended).
If you have
A high-tech prototype to show
Results from an advanced research project ready to display
Innovative products less than 2 years on the market
Then come and join us! How?
Read the Exhibition Guide

Submit your proposal by the 19 April 18.00 CET

ICT 2015 provides the selected exhibitors with much more than just a booth:
An international audience of around 4500 delegates
An online catalogue with all your visuals
Opportunities to network with your peers, and gain new contacts
Exploring synergies between science, technology and art
An off-site exhibition reaching closer to the citizens
For more information visit
http://ec.europa.eu/digital-agenda/en/ict2015-innovate-connect-transform-lisbon-20-22-october-2015
and
https://ec.europa.eu/digital-agenda/en/news/call-exhibition-ict-2015-innovate-connect-transform