Africa's architectural heritage is being recorded in striking 3D images by the Zamani project, which attempts to capture the spatial domain of African culture. Sites are seen in the context of their physical environment and landscapes surrounding sites are documented based on satellite and aerial imagery, wherever possible. The documentation project undertaken to increase the international awareness of African heritage and provide material for research, while creating at the same time a permanent metrically accurate record of the most important sites, for restoration and conservation purposes.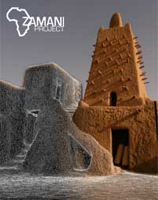 The project is based on state-of-the art data acquisition and presentation technologies, which are used to generate Geographic Information Systems, 3D computer models and other spatial data. Data are captured during (often complex and difficult) field campaigns of the project team. The team has completed its documentation work in Ghana, Mali, Kenya, Ethiopia, Tanzania and South Africa. Further documentation work is planned for other African sites.
The heritage collection is conceptualised as an integrated and interactive model, in which contextual data are closely linked to spatial data. The Zamani Project aims not only to be used as an information source but also, through its spatial data and representations of the sites, to form a basis for site management and additional site documentation.
The project was initiated in 2004 in the Geomatics Division of the University of Cape Town and funded by the Andrew W. Mellon Foundation from 2004 until 2012. Currently it is funded through the independent "Zamani African Cultural Heritage Sites Trust", which was established by the Philanthropist and UCT Alumni Duncan Saville.
The project arose from years of heritage documentation activities conducted by its Principal Investigator, Heinz Rüther. The Zamani group, comprising three Scientific Officers, four to eight temporary assistants and interns and the Principal Investigator is the umbrella which manages and executes the project's activities.
The spatial data acquired by the Zamani group are made available to subscribed Institutions worldwide through ALUKA [www.aluka.org]. The Zamani project's IP policy adheres to the rules of the Aluka's one.
In particular, data may be used only for education, research and for restoration and conservation purposes. They may not be used for commercial purposes.
For more information visit the Zamani project's website