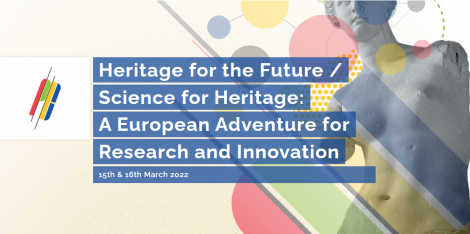 img. from Heritage Research Hub website.
Under the French presidency of the Council of the European Union, the Foundation for Heritage Science will organise, with the European Commission and in partnership with the French Ministry of Culture and the French National Centre for Scientific Research (CNRS) and the universities of Paris-Saclay and Cergy Paris, a symposium dedicated to heritage science in Europe. It will be held on 15 and 16 March 2022, in Paris at the Louvre and the National Library of France.
Heritage science is the wide and transdisciplinary scientific field that deals with the study of cultural heritage. Bringing together the human, social, fundamental, digital, and engineering sciences, it contributes to the identification, understanding, preservation, restoration, and transmission of cultural heritage, be it tangible, intangible, natural or digital.
The aim of this symposium is to highlight the diversity of heritage science, in France and in Europe, and to show how it contributes to safeguarding heritage and unveiling its central role to understand and face major contemporary challenges (social, cultural, economic, political, and climatic). The programme builds on four main themes:


A reflective heritage for a resilient society


Sustainable management of cultural heritage


Cultural heritage in a changing context


Cultural heritage facing climate and environmental change


The symposium will be held in French and in English in the form of plenary presentation sessions and round tables, which will be accessible online.
Read also: https://www.heritageresearch-hub.eu/event-heritage-for-the-future-science-for-heritage/
This event is part of the French Presidency of the Council of the European Union 2022.