Google has launched a new competition that gives digital art creators the opportunity to gain recognition and exposure. 'Devart' is an exhibition that will be on show at the Barbican this summer to promote "the use of technology as an artistic canvas". The winner of the competition will feature alongside digital installations from three well-known artists in the field. One of these pieces, by creative duo Varvara Guljajeva and Mar Carnet, entitled 'Wishing Wall', combines digital, audio and interactive technology to collect the whispering voices of visitors and transform them into digital butterflies, which Guljajeva describes as 'the metamorphosis of a wish'. Installations by Karsten Schmidt and Zach Lieberman will also feature as part of the exhibition, which aims to explore and encourage contributions to artwork made with computer coding.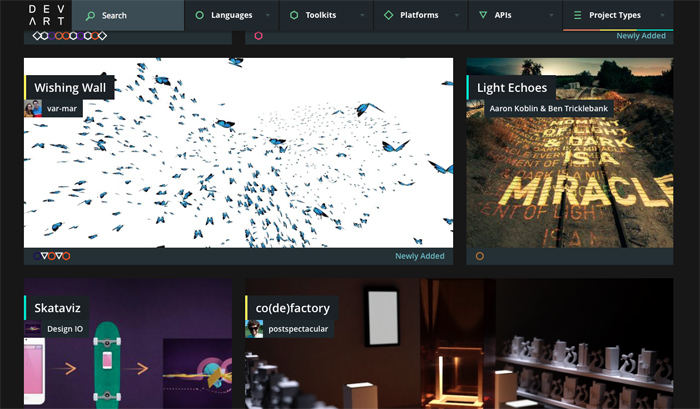 Not only does the Devart project intent to extend to schools, which will put young people in direct contact with digital art, but the exhibition itself will also embark on a tour of galleries in the international community. The competition offers unknown artists the chance of a commission and to take part in the Barbican's exhibition project, 'Digital Revolution Exhibition'. While there can only be one winner, who will be announced in April by a panel of judges at the Google Creative Lab in London, the website has become a wide-reaching database for innovative projects in digital creativity. This means that the vast majority of artists, who do not receive the commission prize, have still been given a professional space where they can broadcast their ideas. The projects that appear on the site range from animation, to light display and 3D design, offering budding creatives a foundation to discuss and develop their ideas with other experts in coding for digital art. While the categories for browsing contributions may be less accessible for Internet users who are not digital experts, for digital professionals, the site is a useful resource. You can search by the platforms the projects were created with, such as Windows, Ios or Linux, by the toolkit used for the development, and even where they originate from on a map of the world. Only one piece will be selected to participate in the Barbican exhibition, but the website highlights the great necessity of professional networks that share digital art capabilities and projects across the globe.
For more information and to view contributions: https://devart.withgoogle.com/
Video: 'Wishing Wall' by Varvara Guljajeva and Mar Carnet

(Photo: Screenshot from Google Devart website).