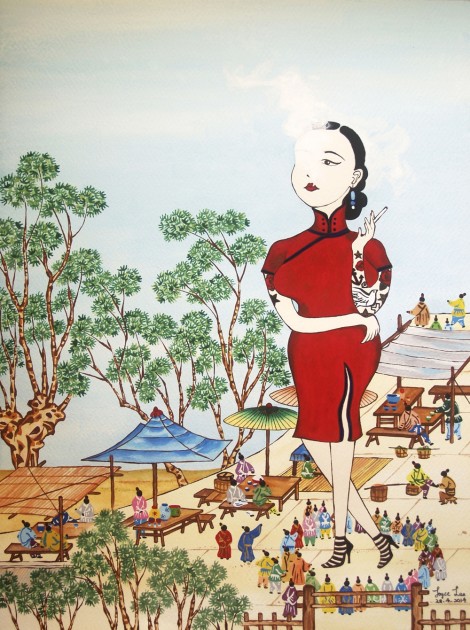 Girls of the Underworld is a group show ran by the Singapore's Kult Gallery and it will run untill Saturday 28 June 2014.
This exhibition want to show what it means to be female in the Asian society from the prospective of 34 young female Asian artists.
The artists were invited  to create a new piece of work that captures their perspective on living and working in fast-paced modern Asia, rocking the world of illustration, graphics and contemporary art.
This is done through exploring subjects such as music, identity, pop TV and movie culture.
Artists were given freedom to create their work using various mediums, such as painting, drawing, silk screening, collaging, and even animated GIFs as a form of artistic conversation.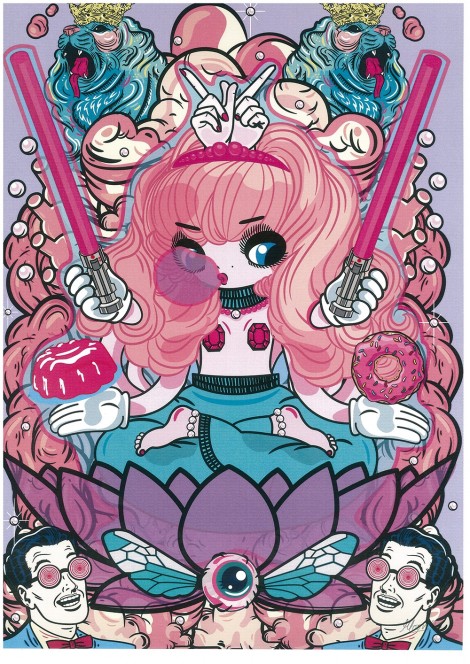 This exhibition represent the generation of increased planted on Asian pop culture in the age of mass communication and information overload.
Says Kult's Curators, 'We are currently witnessing a boom of creativity in Singapore, especially amongst the female community. 'Girls of the Underworld' aims to capture and celebrate this phenomenon."
The show features a lot of local female artists such as Mightyellow (Adeline Tan) http://www.mightyellow.com/ , Allison M Low http://www.allisonmlow.com/ , Carmen Chen http://www.carmenchenwu.com/ , Dawn Ang (Aeropalmics) http://www.aeropalmics.com/ , Farah Hannah, Izziyana Suhaimi, Joyce Lee , Lui Yiling.
All artworks will be available for sale at the Kult online store. http://store.kultmagazine.com.sg/
Exhibition Details
Opening Date: Friday, 30th May 2014 (5PM – late). Open invitation
Location: Kult Gallery
Address: Blk C2-5 Emily Hill, 11 Upper Wilkie Road, Singapore 228120
Operating Hours: Mondays to Fridays: 11am – 7pm, Saturdays: 1pm – 8pm
Exhibition Ends: 28th June 2014
For more information visit http://www.kult.com.sg/