Currently a full professor in the School of Art and Design at the University of Illinois, Gerald Guthrie began his career as a printmaker but began to teach himself 3D modeling and animation in 1996.  Since then, he has added digital art to his repertoire and has exhibited in many animation festivals around the world.
In your viewpoint, what is the reaction to digital art in the contemporary art world? How do fellow professors in fine arts academia currently view digital art?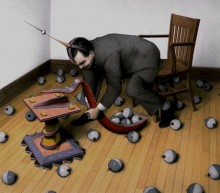 Digital technology is certainly a ubiquitous component of contemporary art, but the fascination with it has lessened during the past decade. Digital work no longer need stand as an end in itself. Earlier work utilizing emerging digital technologies sometimes exhibited self-consciousness, but that is no longer such an issue. If anything, there is now a trend away from solutions based entirely on digital solutions. This is a healthy development in that the artist or designer can go back to finding the "right tool for the job." Effective work is ultimately based on understanding which approach best suits a particular end result. One of my goals with foundation level teaching is to devise projects that move the student through phases beginning with research, but then through an integrated combination of digital and hand processes. Art is about synthesis.
It is amazing, though, how many procedural aspects have been changed or replaced by digital technology. For most artists, this is realized in a faster work flow and for some there would be no other way to effectively express certain ideas. I can't imagine hand work ever being entirely replaced by the digital processes. Working with our hands and responding to human craft is part of what we are.
How do you see digital software impacting contemporary art in the next 5-10 years?
It will become more seamless. Apple has shown that software can be designed to fit human learning, rather than the other way around. Artists, rather than engineers, will be able to access and accomplish complicated tasks without having to understand how the software actually works. I also believe there will be more integration with how we feel, as well as how we think. Such things as tactile feedback, or haptics, will offer people a chance to be involved on a physical level. Looking at the amazing arc of technological development, I am prepared for just about anything.
Who are some digital artists that we should all know about (or any flying under the radar)?
I mostly follow computer animation, since that is my emphasis. I am impressed with the work of Chris Landreth, Mark Craste, and just about anything that comes from the graduate program of a French animation school called Supinfocom.
You are from a traditional background in printmaking. What drew you initially to the medium of digital?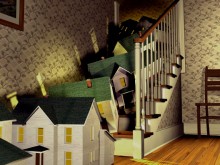 I got into printmaking because of the encouragement of an undergraduate professor at the University of Wisconsin-Milwauke ein the 1970's. He was supportive of my quirky, somewhat surreal, narrative imagery. I also responded well to the extended process necessary to complete a print edition, as well as the ability to economically distribute an artwork to many people. All along, my hand work was detailed and painstakingly rendered. In the 1990's, I saw a graduate student working with 3D modeling and animation software and believed the technology could be used to create perspective templates for my drawings. As I spent more time with the software, I was pulled into the entire process, especially the beautiful lighting and texturing that is possible. An enjoyment of the challenging process required to create an animation and the ability to extend my narratives in time finally drew me into the process fulltime. Incidentally, I still like the idea that many people, actually very many people, can access the work for no charge via the internet and film festivals.
Could you tell us more about the film festivals you have participated in?
My animations have screened and won some awards in over one hundred film festivals, including the Melbourne Animation Festival (2011), Anima Mundi (2010), The Seattle Film Festival (2011), the Denver Film Festival (2010) and the Prix Ars Electronica International Festival of Arts and New Media (2008, 2010).
It is exciting to know that I have participated in festivals and gallery screenings in the United States, Australia, Russian Federation, France, Palestinian Territories, Serbia, Mexico, Italy, Germany, United Kingdom, Austria, Brazil, Nigeria, Portugal, Canada, Denmark and Iran.
I just returned from attending the New York City International Film Festival where my animation, "The Cycle of Life" (see video below) won Best Animation. I cannot attend all the festivals, but the few that I have been able to see have been great fun. It is a good excuse to say to my wife, "Do you want to go to Linz, Austria next month?"

Is there a difference in the mark making with traditional means vs. digital?
I don't really make marks, but use the mouse to construct or engineer 3D objects and environments. I do encourage my students to use drawing tablets with graphics software to better approach the importance of gesture in making a digital drawing. What I really like to see is a student drawing directly onto a computer print.
Gerald's official website: https://netfiles.uiuc.edu/gguthrie/www/more_information.htm
The video below, "Animator Gerald Guthrie: Combining the Old and the New" (2008), was produced by Tim Hartin and Alison Davis Wood for the premier episode of "Illinois Innovators," a series which profiles different examples of innovation at the University of Illinois.