7-8-9 March 2012
Sala incontri MAXXI B.A.S.E.
Curators: Micol Di Veroli and Giovanna Sarno
The Gap Project – Generations Compared aims to provide evidence to the medial and imaginative power of video art, a means to transmit sensations and emotions in motion that makes use of the latest technology to fully express the artist's creativity.
During the festival, many video-works will be showing, by several italian and international artists: Bianco-Valente, Masbedo, Anita Calà, Stefano Cagol, Joan Jonas, Rosa Jijon, Susan Kleinberg, Sandro Mele, Daniela Perego, Fabrizio Plessi, Daniele, Puppi, Arash Radpuor, Guendalina Salini, Studio Azzurro, Carlo Zanni.
There will also be debates and meetings among the artists, the curators and the audience.
PROGRAMME:
7th March
h. 18.00 – Welcome Speeches
Pio Baldi – President of MAXXI, Museum of XXI century's arts
Fabiana Santini – Director for Art, Sport and Youth of Region Lazio
Roberto Grossi – President di Federculture
Francesco Casetti – Yale University, Humanities Program e Film Studies Program
h. 18.30 – Videos
Studio Azzurro, Striaz, 2006, 4'48''
Arash Radpuor, Senza titolo, 2012, 4'
Daniele Puppi, Zero, 2009, 3'33''
Carlo Zanni, My country is a Living Room, 2011, 4'
Pietro Ruffo, Freedom and its desease, 2010, 10'40″
Sandro Mele, Working poor, 2011, 6'25''
h. 19.00 – Curators and Bruno Di Marino interview Daniele Puppi, Pietro Ruffo and Arash
Radpour
8th March: Videoart celebrates women
h. 18.00 – Videos
Joan Jonas, Melancholia, 2004, 5', Courtesy Galleria Raffaella Cortese, Milano
Guendalina Salini, In-Visibile, 2011, 4', Courtesy Ex Elettrofonica, Roma
Rosa Jijon, Kika, 2007, 3'30''
Daniela Perego, Matrimonio 2009, 6′
Anita Calà, Anita c., 2012, 3′.56"
h. 19.00 – Curators interview Rosa Jijon, Daniela Perego and Anita Calà.
9th March
h. 18.00 – Videos
Fabrizio Plessi, Project of the world, 16'55''
Bianco-Valente, Sulla Pelle, 2010, 4'22''
Masbedo, 11:45:03, 2004, 11'45'', Courtesy Galleria Pack, Milano
Susan Kleinberg, Tierra sin males, 2011, 3′
Stefano Cagol, EVOKE PROVOKE (THE BORDER), 2011, 18'
h. 19.00 – curators and Marco Tonelli interview Fabrizio Plessi and Bianco-Valente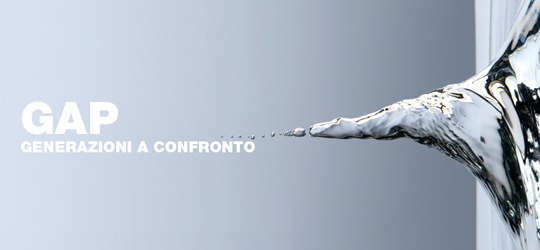 This event is promoted by Federculture and MAXXI, Museum of XXI century's arts, with the support of Region Lazio
Further Info (italian language):
http://www.fondazionemaxxi.it/2012/03/07/gap-generazioni-a-confronto/