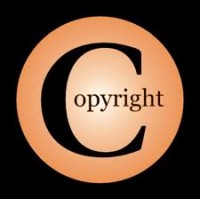 With the increasing complexity and world-wide distribution of digital objects and their derivatives, the tasks of identification, evaluation and enforcement of digital rights have become too complex to be carried out manually. It is necessary to take into account the case-specific applicable laws, the complete creation history of a work and the existing licenses.
Intellectual Property Rights (IPRs) are exclusive rights that the law grants to the authors of intellectual creations. In nearly all countries, those that have agreed to the Berne Convention, they come into existence as soon as there is a manifestation of the creative idea. Intellectual Property Rights are not the same in different countries, although the WIPO (World Intellectual Property Organisation) is working to promote and harmonise intellectual property laws internationally.
IPRs are divided in Industrial Property Rights and Copyright. Industrial Property Rights covers, among others, inventions (patents), industrial designs, trademarks and indications of source. On the other hand, Copyright protects literary, artistic and scientific works, in particular the rights on the economic exploitation of works, as well as their integrity and the authors' personal reputation. Related Rights were introduced later to complement Copyright and to protect, among others, artistic performances, sound productions, databases, software and folklore.
In digital archives, users and maintainers are confronted with the legality of their actions on the digital material in a changing physical and legal environment. Digital Rights Management is not easy without machine support. Rights may be formulated in free text and may apply indirectly through chains of transfer and inclusion in other works. A typical multimedia documentary may touch rights of hundreds of contributors. A change in legislation may simultaneously change the legal status of a multitude of documents in an archive and require immediate measures by the right holders.
Work has been done to express the semantics of licenses in different standard machine-understandable rights languages, however, no unique formal model has been found so far that integrates legislation, licenses and provenance events of works in order to determine all the existing rights held by producers and consumers of digital works.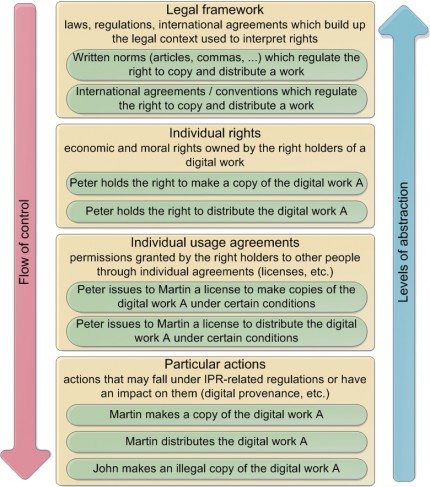 This paper presents a domain ontology, the "Digital Rights Ontology" (DRO), that aims at providing a comprehensive conceptualisation of the basic relationships and entities in the Intellectual Property Rights domain, focusing in more detail on Copyright and Related Rights. The aim of the ontology is to make explicit the information elements and their relationships that contribute to identify rights, and to enable the formulation of algorithms running on contents, metadata and background knowledge to recognise possible rights, rights violations and changing rights situations in digital archive materials. Its major innovation is the formulation of rights as activity patterns that can be matched with past or future events and thereby represent conditions for legal consequences. It distinguishes four levels of abstraction or control:
the legal framework
the individual rights people hold
the individual usage agreements right holders and others may issue
the particular actions that may fall under IPR-related regulations or have an impact on rights, such as the digital provenance.
The upper levels are interpreted as sets of conditional rules or plans for the lower levels, justifying actions or reactions on situations occurring in the lower levels.
This ontology has the potential to enable wide semantic interoperability of digital repositories for:
identifying and reporting existing rights on digital objects, following the derivation and aggregation history
identifying the impact of changes in multi-national legal frameworks on the rights on digital holdings
tracing the impact of particular real or fictitious ("what if") actions on existing rights and regulations.