The winners of the Asia Digital Art Award last year will now have their work displayed at the Asia Digital Art Award Bangkok 2013.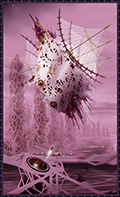 The pieces displayed will include still works and moving 3D animation works, as well as an interactive area that uses Kinect motion sensors. Visitors will also benefit from the ability to manipulate still pieces using an iPad.
Awards for digital artwork were received in the areas of still images, moving images, entertainment and interactive art, with grand prizes awarded to artists in each category.

The exhibition of the prize winners' pieces is important for the support of digital artists in Asia, as it gives those who were unable to get involved in last year's awards to view the work. The exhibition recognises the contribution to outstanding digital artwork the artists have made, and ensures that their efforts are not forgotten while the following year's awards are underway.
Venue: National Science Museum Bangkok
More information:
http://www.bangkokpost.com/lifestyle/family/366393/digital-art-in-the-spotlight