eVenti Verticali is a vertical theater company based in Sardinia, Italy. A new project, WANTED, mixes the vertical theater with 3D animation. In WANTED, the new technology takes shape into virtual cartoons and it interestingly mixes with the movement of the performers on stage. All of this takes place at vertiginous heights on walls, buildings, bell towers and everything that is perpendicural to the horizon!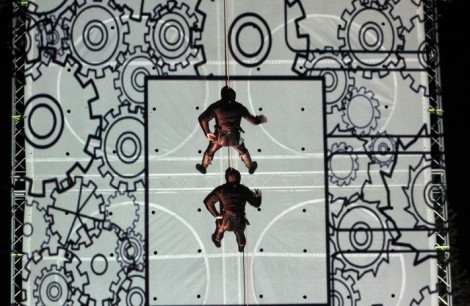 eVenti Verticali's new ACTION SHOW takes place around a 50m² screen lifted by a crane.
The story is projected on the screen, and develops around the performers' actions. The result is a VIRTUAL AND INTERACTIVE video set!
Drama, videosets and physical elements combine in a visual comedy show where 2D projections are combined with 3D acrobats and actors, producing a truly unique effect.
As they are drawn into a world of comics and animated film, the two protagonists go on an adventurous trip balanced between the ficticious nature of the drawings and the pesudo-reality of a pc that projects the images.
The computer itself becomes a character, as a deus-ex-machina, intervening and projecting the two heroes on its desktop, transforming them into 1980s videogames characters.
This is the first time that such technology mixes with the vertical theater. Video projections are not new in the vertical theater fiels, but are usally used as a beautiful background for the performances. While, in this case, the video projection are not only the background, but take actively part in the story. In fact,  the video scenographies accompany the performers in the storytelling and are an element with which they continuously interact. It is an innovative performance where videos, theater and vertiginous heights generate a performance of great impact.
Official Website: www.eventiverticali.com