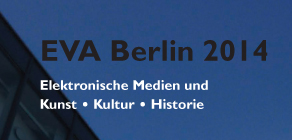 The Staatliche Museen zu Berlin, Preußischer Kulturbesitz (National Museums in Berlin, Prussian Cultural Heritage) and the Fraunhofer Institute for Computer Graphics Research IGD invites to the 21st EVA Berlin conference on Electronic Media & Art, Culture, History, which will be held from 5 to 7 November 2014.
Venue is the Kunstgewerbemuseum Berlin (Museum of Decorative Arts) at the Kulturforum Potsdamer Platz, Berlin's culture Plaza (Matthäikirchplatz 8, 10785 Berlin).
The EVA Berlin conference is an annual discussion forum for electronic documentation and visualization technologies in the field of cultural heritage applications. Ambitious digitization projects with regard to cultural context, network-based research and new technical opportunities for museums, libraries and archives are presented with a strong reference to their usage. It encourages the exchange between heritage institutions and technology providers, information professionals and the public administration on current issues and innovative technologies of the digital society. Conference, workshops and exhibition offer a valuable opportunity to gain insight into new products and services and to establish partnerships.
 PROGRAMME:
3D digitization, documentation and presentation of cultural heritage are among the main items on the agenda of this year's conference:
Wednesday, 5 November 2014 | 9:30am-12:30pm
Workshop I: 3D-Scanning of cultural heritage – technologies and areas of application
Wednesday, 5. November 2014 | 1:30-4:30pm
Workshop II: Forum "Kultur in 3D": cooperation, positions and projects
Workshop III: Attention! Perceiving, discovering und learning in a digital society
Thursday, 6 November 2014 | 9:30am-1pm
Conference I
Session 1: Culture in 3D – acquiring, modelling, visualizing
Session 2: Culture in 3D – virtual archaeology
Thursday, 6 November 2014 | 3-6pm
Conference I
Session 3: Digital history – detection systems and strategies for documentation
Session 4: Digital society – on hearing and seeing
Thursday, 6 November 2014
Full day exhibition
Friday, 7 November 2014 | 9:30am-1pm
Conference II
Session 5: Digital cultural heritage – in networks and associations
Session 6: Digital pictorial world – always only images?
The conference will be held in German. Only workshop III is in English.
The conference addresses museums, libraries, archives and associations, ministries of culture and education, museums and heritage organizations as well as other cultural institutions, research institutions for image processing, computer graphics and information and media sciences as well as suppliers of multimedia and image processing systems, hardware and software, online information services and databases.
Download the Flyer of the Conference here
For more information on the program and conference fees see:
https://www.eva-berlin.de/en/en.html
Please register via the registration form online until 24 October 2014:
https://www.eva-berlin.de/en/participation/registration.html
Contact:
Constanze Fuhrmann
Fraunhofer Institute for Computer Graphics Research IGD
Fraunhoferstr. 5, 64283 Darmstadt, Germany
P + 49 6151 155-620
constanze.fuhrmann@igd.fraunhofer.de