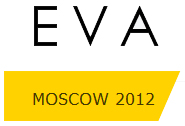 The XIV Annual International Conference «EVA 2012 Moscow. Information Society, Culture, Education» will be held 26- 28 November 2012 in the Russian State Library (Moscow, Russian Federation).
EVA Moscow is one of a series of annual conferences, have been held since 1990 in Florence, London, Edinburgh, Berlin, Prague, Warsaw, Harvard (USA), Gifu (Japan), Beijing, Vienna, Jerusalemand other cities of the world.
«EVA 2012 Moscow» theme: "Digital Cultural and Scientific Heritage Preservation an Access"

The main organisers of the conference are the European Commission, the Ministry of Culture of the Russian Federation, the Russian State Library, the Centre on the Problems of Informatisation in the sphere of Culture (Centre PIC), Inter-regional Center for Library Co-operation. The conference is supported by the Russian Committee of the UNESCO "Information for All" Programme, the Russian Branch of ICOMOS, the Russian Branch of ICOM, the Russian Library Association, the Russian State Art Library, Association of Museum Documentation and IT (ADIT), EVA Conferences International.
The conference welcomes representatives of intergovernmental and international non-governmental organisations, public authorities in the sphere of culture, education, science, information and communications; experts from business, civil society, research and education communities; mass media; political and public figures, and leading experts.
The conference will discuss the following issues:
·         Russian and International Programmes and Projects, International Co-operation; Intercultural Dialogue; EC projects; EUROPEANAand supporting projects, UNESCO "Information for all" Programme;
·         Information society technologies in museums, galleries, libraries, archives, universities, contemporary art;
·         From information society to knowledge society: digitisation of and access to cultural and scientific heritage;
·         Multilingual access to information; Legal issues; Technologies, Standards and Meta-Data;
·         Digital heritage preservation and long-term access;
·         Digitisation cost reduction; New services for citizens; Culture and business;
·         Culture for Education – Education for Culture.
The conference covers plenary sessions, thematic sections, round tables, seminars, workshops and a virtual exhibition.
The working languages are Russian and English. Interpretation of the key sessions will be provided.
The Organisers will assist in invitations for the visas.
Registration and detailed information will soon be available on the web-site www.evarussia.ru
See also EVA 2011 Moscow