"Connecting Society through Culture…the power of partnerships, open data and cutting edge technology"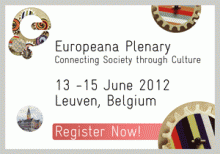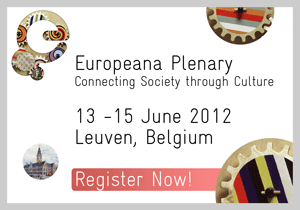 The Europeana plenary aims to:
inspire new ideas
showcase  innovative approaches to digitised content
connect people and concepts to help realise ideas
You will have the opportunity to hear leaders in the digital and cultural field present case studies on the latest developments; explore the Europeana Network's concept of the European Cultural Commons; and learn about the Europeana Business Plan for 2013.
Around 250 professionals from cultural heritage institutions, the open data community, technology experts and software developers from Europe and beyond are expected to attend.
The 2012 plenary, organized in cooperation with with the Katholieke Universiteit Leuven, will take place from 14-15 June and is open to the entire Europeana community. An invite-only pre-conference session will be held on 13 June.
The 2012 plenary sessions will be lead by inspiring key note speakers and supported by a number of break-out sessions on themes including Collaboration, Open Culture and Innovative Technologies from 14 -15 June.
The full programme of the event is available here.
Registration required (until 07/06/2012)
Venue:
Naamsestraat 22
3000 Leuven (Belgium)