ENEA is the name for Italian National Agency for New Technologies, Energy and Sustainable Economic Development.
The Agency's main research issues are identified as follows:
Energy Efficiency
Renewable Energy Sources
Nuclear Energy
Climate and the Environment
Safety and Health
New Technologies
Electric System Research.
Specifically, the Agency's activities are devoted to:
– basic, mission-oriented, and industrial research exploiting wide-ranging expertise as well as experimental facilities, specialized laboratories, advanced equipment;
– new technologies and advanced applications;
– dissemination and transfer of research results, thus promoting their exploitation for production purposes;
– provide public and private bodies with high-tech services, studies, measurements, tests and assessments;
– training and information activities aimed at broadening sector expertise and public knowledge and awareness.
The Agency's multidisciplinary competences and great expertise in managing complex research projects are put at the disposal of the community.

Since over twenty years ENEA is committed to knowledge development, conservation, use and enhancement of Italian cultural and artistic heritage. ENEA is based on a valuable background that comes from scientific research and development in the areas of new technologies, energy and environment. Thanks to the support and cooperation of experts, ENEA is extending its competencies and technologies to the Cultural Heritage sector, with the aim to meet the specific demands in that field.
The Agency ENEA provides advanced skills, sophisticated technology, complex test structures, processing capacity and interpretation competencies for the Preservation of Cultural Heritage.
ENEA is responsible for investigations and interventions on behalf of the Ministry of Cultural Heritage and Activities and of local authorities and public/private institutions, and is also involved in national and international research programs. In addition to the development and applications, the Agency carries on technology transfer and knowledge dissemination to all the operators in the field.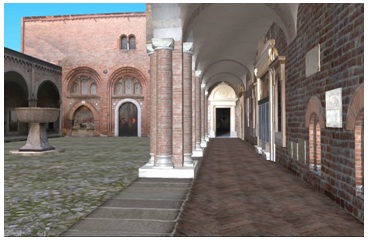 Research areas for ENEA:
Advanced Diagnostics for the conservation and restoration of artifacts and paintings, basing on advanced technologies (x-ray, x-fluorescence analysis and investigation) – learn more: PDF – italian language
ICT application to the Cultural Heritage: 3d modeling and reconstruction, augmented reality, catalogue information systems, e-learning and training
Natural risks prevention, structural analysis, seismic protection
Sustainable exploitation and risk managing for the cultural heritage