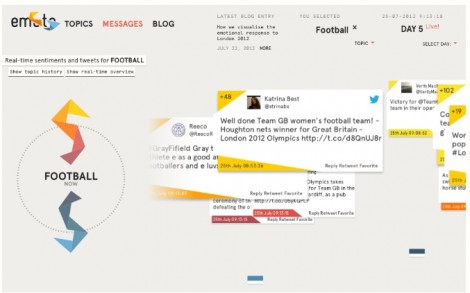 London 2012 data visualisation artwork is a unique data art project that sets out to visualise the emotional response to the Olympic and Paralympic Games 2012  as medals are won and lost. The collected emotion data can be experienced via a web-based visualisation, an installation in Trafalgar Square, an augmented reality mobile app, and a physical installation of the collective response to the Games.  emoto is a manifestation of the emotional response to London 2012 as captured on online social media sites. It works by tracking social media sites for themes related to the games and analyses the messages for content and emotional tone.

emoto moves from real-time (web-based visualisation and mobile app, launching 26 July) to echo (sensory installation in Trafalgar Square, during the Paralympics) to archive (data sculpture, at the WE PLAY Cultural Olympiad closing event).
The web-based real-time visuals is live at emoto2012.org since July 26th, 12:00pm London time.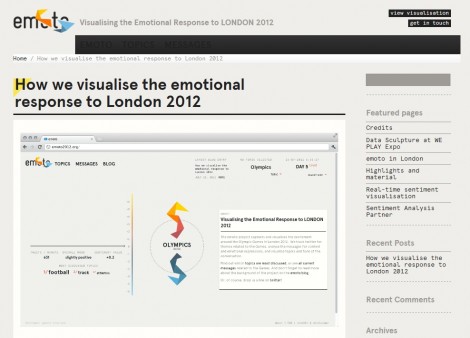 Project partners:
Created by Moritz Stefaner, Drew Hemment, Studio NAND. A FutureEverything project with MIT SENSEable City Lab for the Cultural Olympiad programme and London 2012 Festival.
Co-sponsored by GE and funded by Arts Council England and WE PLAY/Legacy Trust UK.
Stay tuned: