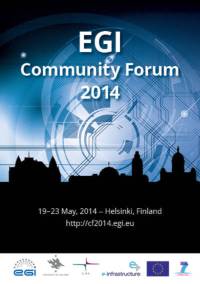 The Community Forum 2014 will be held in Helsinki, Finland (19-23 May 2014).
The event will be hosted by EGI.eu in partnership with CSC – IT Center for Science and the University of Helsinki.
The main theme of the Forum is Advancing Excellent Science. In preparation for the Horizon 2020 programme, the Community Forum 2014 will focus on the EGI contribution to advance excellent science in the European Research Area through the use of innovative services for data and computing.
The organisers hereby encourage all interested parties to participate by submitting abstracts for individual presentations, technical or training sessions, workshops, posters, demos, and hackathons on the following conference topics:
Success stories in using e-Infrastructures for research
Big data analysis through Grid and Cloud computing for large scale projects
Requirements and solutions for data management and computing
Data and knowledge preservation and curation
Virtual Research Environments, gateways and workflow engines
Porting applications to the Grid and Cloud platform
Advanced cloud services
Integrated AAI services
Integrated e-Infrastructure services
Open innovation, policies and business models
Online submissions are welcome through the Community Forum Indico pages.
Deadlines for submission are as follows:
Sessions, workshops, tutorials, hackathons: 15 January (EXTENDED DEADLINE)
Presentations, networking sessions: 16 February
Posters and demonstrations: 16 March
Full details of the conference topics can be found in the event's website.