eCultValue Dialogue Day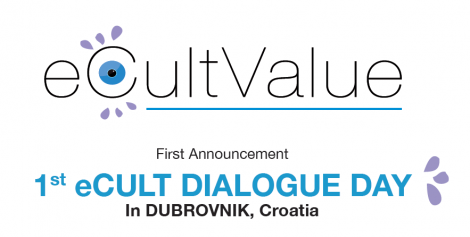 The eCultValue consortium is pleased to invite you to its first Dialogue Day, which will be held at Art Gallery Dubrovnik.
Museums, heritage and conservation professionals, ICTs players, EU and national funded initiatives and projects are welcome to join the eCultValue Dialogue Day  on 19 September 2013 in Dubrovnik.
Organised within the Best in Heritage event, this one-day workshop will focus on the use of innovative technologies that have the potential to revolutionise the way to access cultural heritage and experiences offered by cultural resources in both, real and virtual environments or a mix of them ("augmented reality").
Participation is free of charge but submitted to the on-line registration. Programme and registration available at  http://www.ecultobservatory.eu/content/ecult-dialogue-day"
Participants will be given the opportunity to follow presentations provided by cultural heritage experts during the keynote session and afterwards to brainstorm and discuss their challenging ideas with experts from the ICT sector,  EU funded projects and any interested users in a "World Café" style discussion.
The event will be closed by a social dinner at the Sponza Palace, one of the Dubrovnik landmarks, built in a mixture of late Gothic and Renaissance styles following the plans of Paskoje Miličević who also built the famous sacristy of the Dominican monastery.
Further information:  download the press release (PDF, 367 Kb).
Official website: http://www.ecultvalue.org/