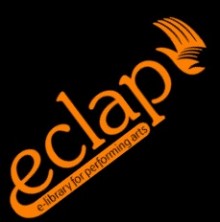 Social Graph is an application that allows to view and interact with the ECLAP's elements, and it has been developed by the project ECLAP, the e-library for performing arts. ECLAP provides Europeana with a variety of performing-arts resources such as videos of dance rehearsals, dance, theatre performances, animations, playlists etc.
With a graph representation is possible to see for each object (video, user, group etc.) the elements associated, according to the existing relations.
The basic idea for this navigation tool is to make the user experience much more intuitive, associative and social; this will definitely lead to find new connections within the content and with other users on the ECLAP portal.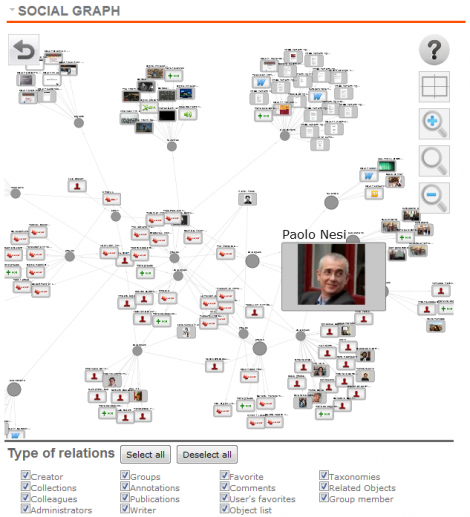 ECLAP Social Graph has recently been selected by Europeana and posted on the Europeana Professional portal and web pages:
http://pro.europeana.eu/web/guest/thoughtlab/new-ways-of-searching-and-browsing#SocialGraph
The Social Graph tool allows users to see, explore and browse the relationships among the ECLAP content and other types of resource created on the ECLAP platform.
These resources consist of:
Information about the creator of the resource (i.e. the creator of the content or the user who uploaded the content)
Taxonomies: each piece of content is associated with a term from the ECLAP Classification system.
Groups and thus content providers and thematic groups in ECLAP.
Collections: users have the possibility to create collections by using the ECLAP content.
Annotations: Users can create annotations on the ECLAP platform thanks to the MyStory Player tool
Publications: to connect user that published the content
Related objects: objects that are similar according to the current ECLAP metric used among similar by text and similar by content
 Location: associated locations identified as Linked Open Data viaGeonames, allowing the navigation into the structure of the structure of the Geonames entities
 And other resources related to social media such as comments, favourites …
These resources are organised as a graph where each resource is represented by a node. The relationships between the nodes are also represented in the graph and the user can navigate in the graph deciding of expanding each node or putting at the center of the navigation the node he prefers. The Social Graph is featured in association with a media player displaying or playing the content which give rise to the graph.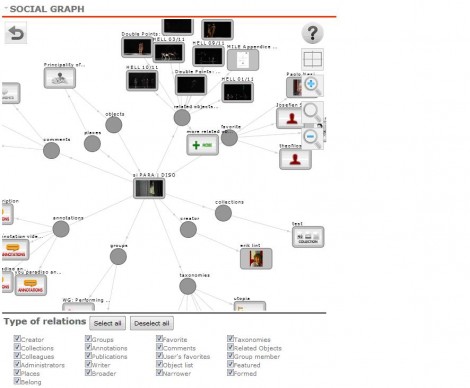 The Social Graph proposes a new approach for navigation within content and related resources and also improves social interaction between users of the ECLAP platform. It can be enriched using the content directly created or generated by users of the ECLAP platform.
More:
http://www.eclap.eu/drupal/?q=node/116088