ECLAP 2013 proceedings on Springer: Information Technologies for Performing Arts, Media Access, and Entertainment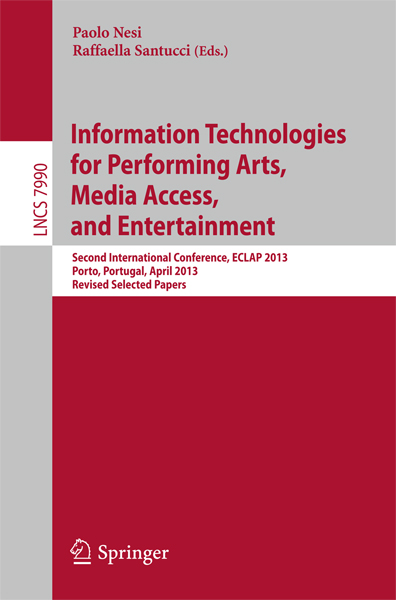 The Information Technology age has facilitated many significant changes in the field of cultural heritage and continues to be a dynamic and exciting forum for the emergence of new possibilities. This wave of change has had particularly significant consequences in the field of the Performing Arts, where the vast potential for digital content and new information technology exploitation continues to reveal itself, opening the doors to new and as-yet-unexplored synergies. Many technological developments concerning digital libraries, media entertainment, and education are now fully developed and ready to be exported, applied, utilized, and cultivated by the public.
This was the vibrant message left by the Second International Conference on Information Technologies for Performing Arts, Media Access and Entertainment, ECLAP 2013, held in Porto, Portugal, in April 2013 (see the article on the Conference here)
Now a publication by Prof. Nesi and Dr. Santucci (EDS) collected the proceedings of the conference organized within the activities of the ECLAP project, a Best Practice Network that aims to create a network of experts and media access service for performing arts institutions in Europe, along with an e-library for the performing arts.
This book contains revised selected papers from ECLAP 2013.
The 24 papers presented were carefully reviewed and selected for inclusion in this book. They are organized in topical sections named: perspectives and (digital) strategies for cultural heritage institutions; trust, quality and tools for cultural heritage digital libraries; educational services for the performing arts; dance in the world of data and objects; acting and natural interaction; and music and opera of a digital generation.
The eBook version of this title will be available for sale from 30 July on Springer website.
See the news on ECLAP website
See the ECLAP website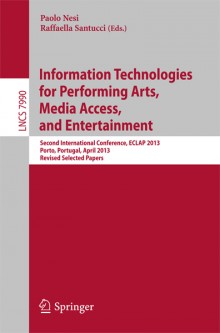 INFORMATION TECHNOLOGIES FOR PERFORMING ARTS, MEDIA ACCESS, AND ENTERTAINMENT
Nesi, Paolo; Santucci, Raffaella (Eds.)
2013, XX, 289 p. 76 illus.
ISBN 978-3-642-40049-0