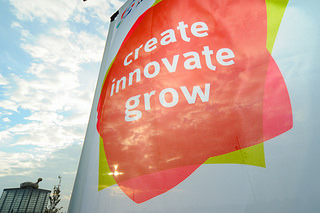 On 27-28 November 2014, in Amsterdam, the European Creative Industries Alliance (ECIA) presented and discussed ten policy recommendations following their three years of work. The recommendations are described and supported with concrete cases in the ECIA final report.
The first day of the ECIA closing Conference took place in venue Pakhuis de Zwijger. Kajsa Ollongren, Deputy Mayor of Amsterdam, kicked off the programme of the day. In her speech, she linked the work of ECIA to the Creative Industries climate in Amsterdam, mentioning different initiatives such as the Jean School, a unique education programme for denim professionals. "Creativity is an important European value – she stated – It's clear where we need to invest in. Creative Industries are the sectors that grow".
Presentation of the final report
ECIA chairman Rasmus Wiinstedt Tscherning gave then an introduction of the project's three year work, which is summarised in the related Final Report. He underlined how the potential of creative industries lies in economic and employment growth.
In the final report, ECIA's ten policy recommendations are presented in three different categories:
stimulate innovation and growth by enabling cross-sector collaboration;
build better business support and access to finance in effective regional ecosystems;
measure and raise awareness of the value of the cultural and creative industries as a key driver of innovation and growth.
Then the turn of Jet Bussemaker came, Dutch Minister of Culture, Education and Science. In her statement she stressed that the Dutch government strives to encourage crossovers and innovation. She mentioned start-ups such as Blendle and Dutch entrepreneurs such as Daan Roosegaarde and Marina Toeters, who represent a generation that is innovative, creative, progressive and which is on its way to conquer the world.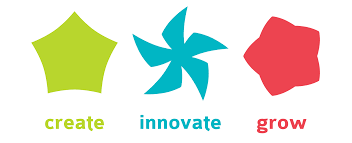 The sector is growing, but it is also vulnerable: Ms Bussemaker observed there is still work to do and advocated a "Made in Europe" brand, a trademark for excellence.
ECIA's policy recommendations were afterwards discussed during two panel discussions:
Panel 1
This first panel was composed of several policy makers: Karine Daniel (FR), Gian Paolo Manzella (IT), Kajsa Ollongren (NL), Olli-Poika Parviainen (FI), Carsten Schierenbeck (BE), Barbera Wolfensberger (NL) and Rasmus Wiinstedt Tscherning (DK). Main issues arisen during the session were among others:
•educating policy makers;
•public sector needs to be more competitive, on the edge and creative;
•vouchers and financing schemes should cross different sectors and break silo thinking;
•make visible what creative industries do.
"We should convince the banking sector that the Creative Industries is worth the investment" Gian Paolo Manzella commented and  "we should not only support, but also demand stuff from the Creative Industry" Barbera Wolfensberger observed.
Panel 2
The second panel grouped together several practitioners, like cluster organisations and other intermediaries: Mattia Corbetta (IT), Michael Hofegger (AT), Kari Kankaala (FI), Caroline Norbury (UK), Jordi Sellas (ES) and Doortje van Unen (NL). Main points arisen:
•innovation voucher schemes should be available and would help to get creatives and other sectors to work together;
•there is a great need for navigation through the financial landscape;
•how can money institutions such as banks become risk-taking, non-interest financial resources?
•new financial resources where responsibility is shared: repayable loans, with shared risks; parties involved who look after their part of the investment;
•long-term investment should be a more realistic option and we should be getting comfortable with the idea of increasing intangible assets.
"Talent is everywhere, but it needs 3 things: money, markets and networks" – Caroline Norbury
"Sharing risks in funding is sharing responsibility" – Isolde Hallensleben summarising the intervention of Jordi Sellas.
Parallel Sessions
After the plenary sessions, the meeting broke up in three groups for sessions on three different topics: Cross-Sectoral Innovation & the use of Voucher Schemes; Access to Finance; Cluster Excellence and Internationalisation. The project partners, who worked on these different themes, presented their findings in a short overview and views were exchanged between the audience and panel.
At the Public Library of Amsterdam (OBA), the second conference day started with a wrap-up of the day before, by Rasmus Wiinstedt Tscherning.
Mr Albert Boswijk (NL) treated the audience to an inspirational talk about the experience economy. The founder of the European Centre for Experience Economy argued that society is overregulated and that there is a need to create value through meaningful experiences. For example, people are being creative and discovering their creative talents through using digital platforms such as social media. Boswijk stated that everything that can be digitalised can be personalised. Thus, the economy is shifting towards a more ethical form that is dematerialised and more sustainable. The role of creative industries is clear: bring together changing personal values and business values. Important values here are co-creativity and meaningful products.
Boswijk was followed by Carsten Schierenbeck (DG Enterprise), who spoke about future EU policy for creative industries as an emerging industry. What actions are necessary? How can other EU SME programmes benefit from the recommendations? Mr Schierenbeck emphasised the potential of creative industries for other industries. He explained the Horizon 2020 INNOSUP calls for new value chains in emerging industries, wherein the applicant should use at least 75% of the funds for the innovation of SMEs.
Then the turn came of Ms Catherine Magnant (DG EAC), responding to the ECIA recommendations from the European Commission's point of view. Now that there's more insight into the creative industries' contribution to job and revenue, the importance for the EU to invest in innovation and entrepreneurship within this sector is obvious, she observed. These subjects are the main focus on the EU agenda for the coming 4 years. In the Creative Europe Programme, about 31% of the funding will go to culture, 56% to media and 13% to the cross-sector strand, all managed by the European Investment Fund. The value of the cultural and creative industries will be measured and the raise of awareness will be actively pursued by the European Commission.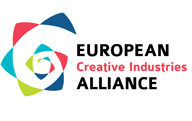 The final presentation was given by Ms Mikolt Csap (DG CNECT). She underlined the importance of the interlinked sectors and more specifically of the creative industries' cooperation with technology providers and commerce/distribution.
Download the full ECIA final report
For more information visit www.eciaplatform.eu