This e-IRG workshop will be organised under the Danish Presidency of the European Union in Copenhagen (Denmark), on Monday afternoon 11 June and Tuesday morning 12 June 2012.
The workshop is co-hosted by the e-IRG Danish delegation, now the Danish e-Infrastructure Cooperation (DeIC), together with the Nordic e-Infrastructure Collaboration (NeIC), consisting of the five Nordic e-Infrastructure providers – i.e. from Sweden, Norway, Denmark, Finland and Iceland.
The title of the workshop is European e-Infrastructure Research Strategy.
Whereas the workshop will cover a wide range of topics from a diversity of application areas, the focus in the presentations will be on the strategic questions related to e-Infrastructures and the way to deal with the strategic challenges.
The workshop will end with the closing debate "What are the Greatest European e-Infrastructure Challenges – Policy; Legal; Economic; Technological?" that will address the questions and strategic challenges presented during the workshop.
e-Infrastructure users, providers and policymakers are cordially invited to attend the e-IRG workshop and to take part in the debates.
The program of the workshop and practical information can be found at:
http://www.e-irg.eu/e-irg-events/workshop-11-12-june-copenhagen.html
Please register at:
http://www.e-irg.eu/e-irg-events/workshop-11-12-june-copenhagen/registration.html
The e-Infrastructure Reflection Group was founded to define and recommend best practices for the pan-European electronic infrastructure efforts. It consists of official government delegates from all the EU countries. The e-IRG produces white papers, roadmaps and recommendations, and analyses the future foundations of the European Knowledge Society.
Venue:
IDA conference centre
Kalvebod Brygge 31-33
1780 Copenhagen (Denmark)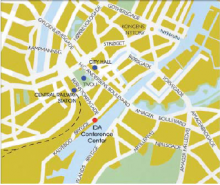 For a complete coverage of the event: