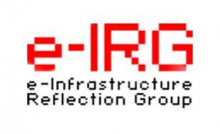 A valuable open workshop was recently held in Amsterdam, The Netherlands, on 3-4 December 2012. The workshop was hosted by the Dutch e-IRG delegation, and was focused on Data Issues.
Data constitute the information required to tackle the Grand Challenges of global stability (health, climate, society, minds, energy, etc.) and to provide input to the many so-called small scientific challenges which may lead to new break-throughs in scientific insight. Big data – both the increasing amount of raw data produced by new generations of hard/software and the growing long-tail data – are the source of new discoveries in data-oriented and data-intensive science.
The workshop addressed important questions such as:
(1) What are good examples of bridges and building blocks of a data infrastructure that may convince all of us about the need of global and cross-disciplinary efforts?
(2) What kinds of services are required to easily upload, access and deploy data in a global and cross-disciplinary scenario?
(3) How can we establish sufficient trust in the data and services for researchers?
(4) Who will actually have to implement and operate the harmonization work?
(5) How do we guarantee that the research requirements will have priority in the harmonization process?
(6) What is the suitable governance (organisational legal and financial) model to combine bottom-up initiatives with top-down strategies and what kind of policies do we want to implement?
The workshop included three tracks:
Content track to discuss bridges and common building blocks.
Services track to discuss what kind of common services we can envisage.
Governance and policies track to discuss a suitable governance model and policies to be put in place.
e-Infrastructure users, providers and policymakers attended the e-IRG workshop and took lively part in the debates. The results of this workshop will be available soon.

Official e-IRG website: http://www.e-irg.eu/