From September 19th to 21st, 2012 the Faculty of Arts organizes a workshop on Digital Humanities. digitalmeetsculture will be present to this prestigious event where international experts are joined by researchers of the Faculty's Research Units to show state-of-the-art computer-assisted research. The workshops aims at doctoral students who want to learn about digital methodologies in related fields. The workshop is open to researchers and students from inside as well as outside KU Leuven. Currently a call for posters is open.
In the afternoon, hands-on sessions are organized to complement the lectures and poster presentations.
Themes:
1. Wednesday, September 19, 2012:
Digitalisation, imaging and visualisation

Michael Pidd (Digital Manager, Humanities Research Institute, Sheffield University)
Fred Truyen (Research Unit Cultural Studies, KU Leuven)
2. Thursday, September 20, 2012:
Data analysis
John Nerbonne (Information Science, Groningen)
Dirk Speelman (Research Unit QLVL, KU Leuven)
3. Friday, September 21, 2012:
Social Network analysis
Giovanni Ruffini (Fairfield University, USA)
Mark Depauw (Research Unit Ancient History, KU Leuven
Attendance is free, but registration is required.
Full programme (preliminary version) is available here: http://www.arts.kuleuven.be/digitalhumanities/programme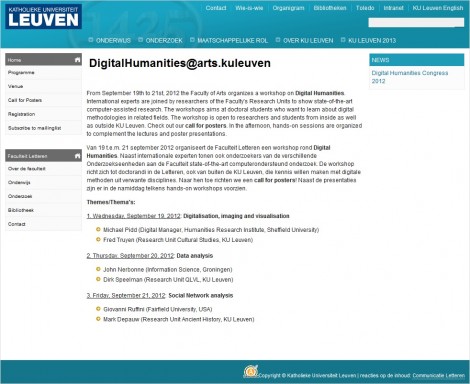 For further information and registration: